TOKYO, September 12, 2016—Canon Inc. announced today the development of the new AXIS Q1659, an interchangeable-lens network camera jointly developed with Axis Communications that combines both Canon and Axis's technological strengths. Axis will launch the new camera in markets worldwide in the first quarter of 2017.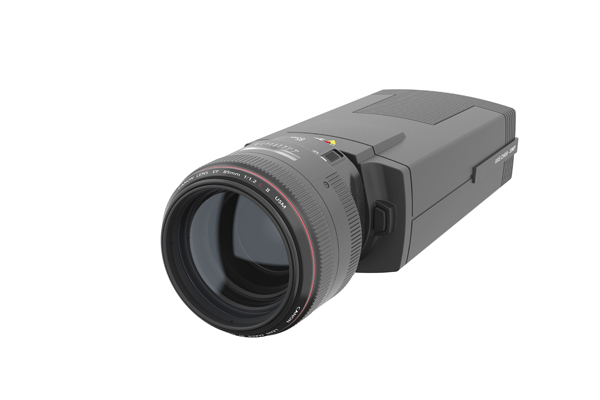 AXIS Q1659
Shown with EF85mm f/1.2L II USM lens
The new AXIS Q1659, which merges Canon's superlative optical and imaging technologies with Axis's exceptional network image-processing technology, marks Canon and Axis's first jointly developed product. Through further cooperation that leverages each company's strengths, Canon and Axis aim to provide customers with sophisticated high-performance network cameras and solutions.
Canon and Axis technologies combine to deliver high-resolution surveillance
Featuring the same Canon-developed high-performance image sensor and image-processing engine employed in the Company's EOS series of interchangeable-lens cameras, the new AXIS Q1659 makes possible the capture of approximately 20-megapixel (5472 x 3648 pixels) color video at 8 frames per second to support high-resolution surveillance applications. Additionally, through Axis's proprietary video-processing and image-compression technologies, the camera offers even more storage and bandwidth savings for enhanced video surveillance efficiency.
A wide selection of lenses to match any surveillance application
AXIS Q1659 users can choose from a selection of seven different EF and EF-S interchangeable lenses for EOS-series cameras, ranging from wide-angle to telephoto lenses to satisfy a wide array of surveillance needs. Canon optical imaging technologies enable sharp, high-image-quality surveillance, from wide-area to telephoto, for such environments as cities, airports and stadiums.
| Kit name | Kit lens |
| --- | --- |
| AXIS Q1659 24mm, f/2.8 | EF-S 24mm f/2.8 STM |
| AXIS Q1659 35mm, f/2 | EF35mm f/2 IS USM |
| AXIS Q1659 50mm, f/1.4 | EF50mm f/1.4 USM |
| AXIS Q1659 85mm, f/1.2L | EF85mm f/1.2L II USM |
| AXIS Q1659 100mm, f/2.8L | EF 100mm f/2.8L Macro IS USM |
| AXIS Q1659 10-22mm, f/3.5-4.5 | EF-S10-22mm f/3.5-4.5 USM |
| AXIS Q1659 70-200mm, f/2.8L | EF70-200mm f/2.8L IS II USM |