TOKYO, March 29, 2017—Canon Inc. has announced today that the Company's interchangeable-lens digital cameras (digital SLR and compact-system cameras) have maintained the No. 1 share of the global market for 14 consecutive years from 2003 to 2016*.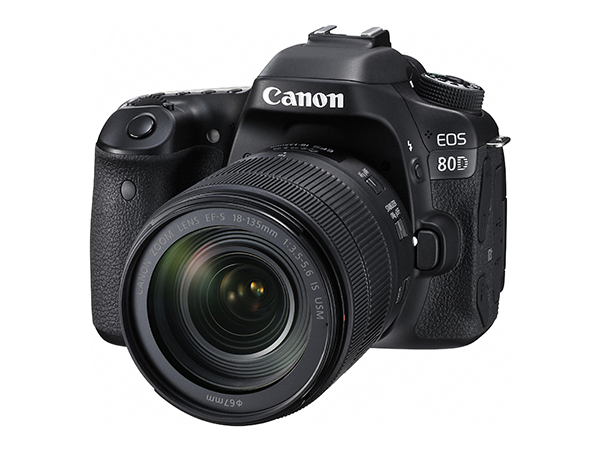 EOS 80D digital SLR camera
Canon develops the key components featured in its interchangeable-lens cameras— CMOS image sensors, image processors and interchangeable lenses— in the pursuit of "Speed, Comfort and High Image Quality, the core concept of the EOS series." The Company employs these cutting-edge technologies across its entire lineup, from entry-level models that achieve high image quality with easy operation to flagship cameras trusted by professionals, effectively responding to the needs of a wide range of users.
In 2003, the dawn of digital SLR cameras, Canon introduced its breakthrough EOS Kiss Digital (EOS Digital Rebel or EOS 300D Digital in other regions). This groundbreaking camera, which was competitively priced and featured a compact, lightweight design, captured the top share of the global market and set the stage for growth in the digital SLR market. Since that time, Canon has continued to launch a range of epoch-making products, including the professional-model EOS-1D series and the EOS 5D series which paved the way for digital SLR video recording.
During 2016, Canon introduced in Japan an impressive lineup of interchangeable-lens camera products that supported the Company's achievement of a 14th consecutive year at the top of the global market. In March, the Company released the EOS 80D for advanced-amateur users, which features excellent still image quality and superb operability when shooting video. April saw the release of the Company's flagship model, the EOS-1D X Mark II, which wields significant clout in the sport photography world thanks to its 14 frame-per-second continuous shooting. The EOS 5D Mark IV, capable of 4K video, was released in September. Additionally, the Company's interchangeable-lens camera lineup was further expanded with the introduction of the high-end EOS M5 compact-system camera in November.
Canon will continue to respond to the needs of its wide range of customers by further bolstering its lineup in 2017. In April, the Company will launch in Japan three cameras equipped with the highly accurate autofocus technology, Dual Pixel CMOS AF: the EOS M6 compact-system camera and the EOS 9000D (EOS 77D) and EOS Kiss X9i (EOS Rebel T7i or EOS 800D in other regions) digital SLR cameras.
Through the further refining of its diverse imaging technologies based on the Company's core optical technologies, Canon will further strengthen and expand the EOS lineup through the integration of still image, video and network functionality. Canon will continue striving to create attractive and reliable products aimed at contributing to expanding the culture of photographic and video imaging.
Related Links