TOKYO, October 11, 2018—Canon Inc. and Canon Marketing Japan Inc. announced today that the company has commenced sales of the MPAsp-H1003T, a new flat panel display (FPD) lithography system that is capable of resolving 2.0 µm Line/Space (L/S) features across Generation 8 glass panels1, making possible one-shot exposure of 65-inch displays.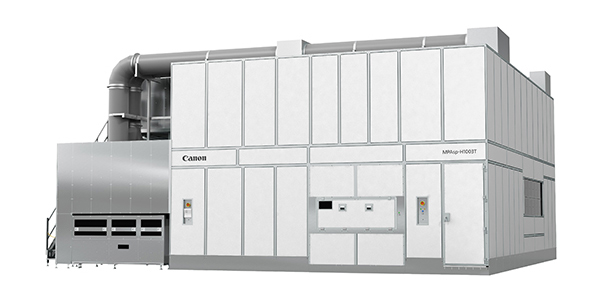 MPAsp-H1003T
With the growing popularity of thin display technology, the flat screen television market is experiencing increased demand for 65-inch and larger displays including support for 4k and 8k ultra-high definition video. Furthermore, market needs are expected to shift towards high-quality Ultra HD Premium2 certified products exemplified by organic LED (OLED) televisions.
The MPAsp-H1003T contributes to highly-efficient mass production of high-quality 65-inch panels utilizing Generation 8 glass panels, helping meet demand for ultra-high definition displays.
Canon FPD lithography systems employ a Reflection Projection Optical System for one-shot exposure and feature a wide-field exposure that enables efficient manufacturing of large panels. Thanks to a newly developed projection optical system and proprietary Canon processing technology, the wide-field MPAsp-H1003T achieves the same 2.0 µm L/S resolution as its predecessor model, the MPAsp-H803T (released in June 2013).
The MPAsp-H1003T also increases the maximum area for one-shot exposure of displays from the previous limit of 58 inches to 65 inches, resulting in a 37% reduction3 in cycle time for 65-inch display exposure versus previous models.
Along with the demand for higher-resolution patterning for high-definition flat panel displays, pattern overlay accuracy has become an increasingly important part of the manufacturing process. Non-linear (distorted) components are considered the primary cause of diminished overlay accuracy. To mitigate this problem, the MPAsp-H1003T uses a combination of a simultaneous multi-point alignment system and magnification compensation technology to achieve a 10% improvement in overlay accuracy compared with previous models.
The MPAsp-H1003T can also employ a dual-inline configuration in which a single coater-developer tool4 supplies two FPD exposure systems. This Multi-Module on Glass (MMG) processing approach exposes two different-sized display panels on a single glass plate to increase process efficiency and productivity. MPAsp-H1003T systems in an MMG configuration utilizing the MPAsp-H803Tmake possible optimized Generation 8 glass panel mass production without lengthening cycle times.
1

Glass panels with dimensions of 2,200 mm x 2,500 mm, primarily used in the manufacture of television displays.

2

A designation which indicates that a product, such as a display, meets the unified standards for Ultra High Definition performance established by the UHD Alliance.

3

Compared with the cycle time required to expose three 65-inch Generation 8 glass panels.

4

A device that applies photoresist to the surface of a glass panel prior to exposure, then immerses the panel in a developing solution to remove any excess photoresist.