TOKYO, July 5, 2022—Canon Inc. announced today the launch, in markets outside of Japan1, of the CXDI-Pro series of wireless digital radiography (DR2) devices, including the CXDI-703C Wireless sensor unit, that are ideal for a wide variety of application in medical treatment facilities.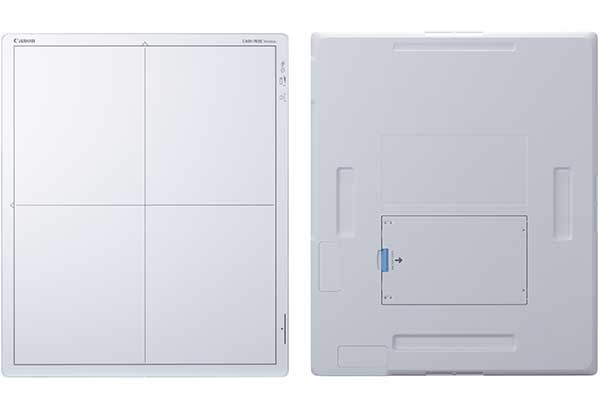 The CXDI-Pro sensor unit
CXDI-703C Wireless (left: front / right: rear)
Easy to carry
In recent years, there has been growing need for DR devices that provide both ease-of-use in a variety of imaging scenarios as well as higher image quality to support greater diagnostic accuracy. In addition, as such technology continues to evolve, there is a concerted effort to minimize patients' radiation dosage.
With the aim of meeting such needs for a wide range of customers, Canon has launched two new series of devices under its CXDI brand of DR devices—the CXDI-Pro series, which features enhanced basic functionality and ease-of-use, and the CXDI-Elite series that provides even greater performance and functionality. The CXDI-Pro series maintains the same basic functionality of its predecessor model3 while realizing an improved body design and circuit architecture that facilitates greater ease-of-use and reduced workload for medical professionals.
The CXDI-Pro series employs the lightweight, half-size CXDI-Pro series CXDI-703C Wireless sensor unit, which weighs approximately 2.9 kg4. The new series, designed to reduce the physical burden on patients, inherits the same IP55 standard5 compliant dust and water resistance of predecessor models allowing for frequent cleaning of the imaging portion and protecting the device in operating rooms and other environments where stray droplets are common. The device design also has fewer connection seams and visible screw heads in surfaces that come in contact with patients.
The CXDI-703C Wireless employs a newly designed circuitry layout that reduces startup time from approximately six seconds to under four, a two-second improvement over predecessor models. What's more, the internal battery operating time6 has been significantly increased from approximately six hours to over ten hours, thus contributing to more efficient imaging operations and reduced energy consumption.
1

Date of commencement of sales will vary by country/region. Please contact Canon for more information:
https://global.canon/en/contact/inquiry/inquiry-form-e.html

2

DR systems employ a scintillator that converts X-rays into visible light, and a flat-panel sensor to use the light to generate a digital image.

3

The CXDI-702C Wireless (released in November 2019)

4

Including weight of battery pack.

5

Permanent resistance is not guaranteed.

6

Operation time may vary depending on use and usage environment.