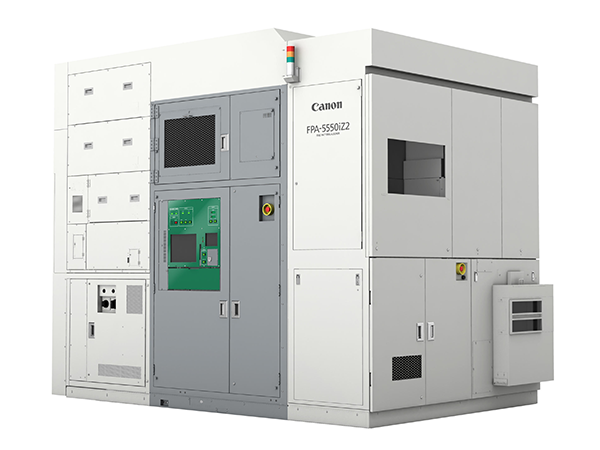 Basic Information
Model Name: FPA-5550iZ2
Features
FPA-5550iZ2 steppers provide the highest productivity & overlay accuracy among i-line Lithography Equipment
Canon has achieved the *highest level of productivity (throughput) among all equivalent class i-line Lithography Equipment. FPA-5550iZ2 steppers optimize alignment, exposure & wafer transfer sequences, shorten wafer lot exchange times and speed up measurement and calibration processing to reduce wafer processing times.
FPA-5550iZ2 steppers can apply a Shot Shape Compensator (SSC Unit) to enable intrafield correction of vertical and horizontal magnification differences and skew (shot distortion in diagonal orientation) within each exposure field. The SSC Unit employs original Canon technology in the projection optical system that allows improved matching to underlying layers and improved overlay accuracy.
*Among equivalent class of i-line steppers, as of December 14, 2016 (Examination by Canon). FPA-5550iZ2 throughput is improved approximately 20% compared with the standard performance of the previous FPA-5550iZ stepper (exposure condition: 300 mm wafer, 96 shots, 1000 J/m2).
FPA-5550iZ2 steppers feature a variety of solutions for logic, memory & image sensor fabrication
Productivity and Overlay Improvement options that balance throughput and overlay accuracy are available. Color filter and other alignment system options established for earlier FPA-5550iZ steppers allow stable operation and flexibility for a variety of processes.
Specifications
Resolution
≦ 350 nm
NA (Numerical Aperture)
0.57~0.45 (Variable)
Reduction Ratio
1:4
Field Size
26 mm x 33 mm
Exposure Wavelength
i-line 365 nm
Reticle Size
6 inch
Wafer Size
200 mm (8 inch), 300 mm (12 inch) (Selection)
Overlay Accuracy
SMO ≦18 nm, MMO ≦ *25 nm
Main Body Dimensions
(W) 2,300 x (D) 3,660 x (H) 3,000 mm
Major Options
Productivity Improvement Option
Overlay Accuracy Improvement Option
Oxygen Concentration Control System
Non-linear Alignment Compensation Function (EAGA-FL)
Chemical Filter
Resist Outgas Exhaust Unit
PC Remote Console
Online Function (GEM-1000, GEM-0304)
Pellicle Particle Checker