Toward future research and development
Director, Executive Vice President & CTO,
Canon Inc.
Toshio Homma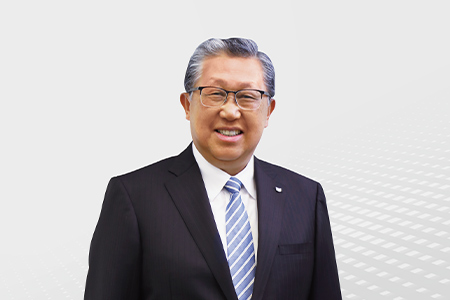 Read more
Since its founding, Canon has developed original products based on its proprietary technologies and has achieved diversification of its business. This has been supported by a research and development framework known as "core competence management," which organically combines core competence technologies that create products, core underlying technologies that form the basis of our accumulated technologies, and core value-creation technologies that support product development, including production, information systems, intellectual property, quality, and design. This framework is one of Canon's major strengths.
At R&D sites, members of the Intellectual Property Division work together with engineers to promote technology and product development activities. In this context, work is being done on a daily basis, from the perspective of IP experts, to link to the acquisition of rights the buds of new technology which engineers tend to overlook. This link ensures our IP activities protect our technology and business effectively.
On the other hand, currently, in order to realize the "new normal" society, technologies are being combined in a complex manner to solve various social issues, and proprietary technologies are being used in fields that differ from those we have seen before. In future R&D, it will be necessary to promote technology development that satisfies the anticipated needs of the future, while at the same time considering the creation of new businesses through the use of the technologies to be developed creating the necessary intellectual property, and ensuring the freedom to develop technologies and businesses using the intellectual property. To this end, we will deepen the cooperation between R&D divisions and the Intellectual Property Division to continue to create innovations to solve social issues and satisfy the needs of the future, and aim to provide new value to future society.
Strategies for Canon Intellectual Property Activities
- To continue to win -
In Canon's IP activities, in order to continue to win the battles in front of us, We have been practicing offensive and defensive IP operations from a long-term perspective, anticipating technologies and businesses to come.
To implement these, our basic strategy is to carry out a so called open/closed strategy that inter-relatedly combines the following three elements to continue to win.
01.

Patents related to core
competence
technologies

02.

Patents related to
general-purpose
technologies

03.

Inventions that others
cannot
easily make
01.

▶

Patents that protect our business in competitive domains, will not be licensed, but will be used to secure our competitive advantage.

02.

▶

Patents such as communications and GUIs, in the cooperative domain, will conclude a cross-license agreement, to secure freedom in our R&D and business.

03.

▶

Inventions that others cannot easily make are kept secret and protected as know-how, so that competitors are not able to emulate us and our competitive advantage is secured.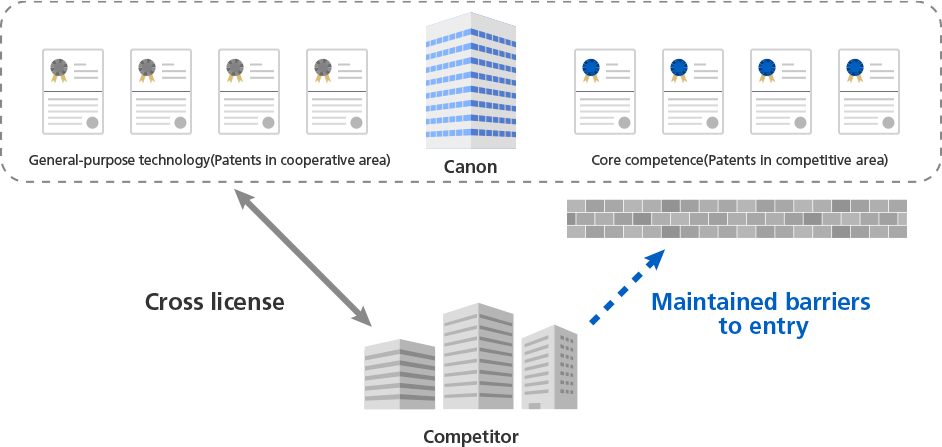 Promotion of intellectual property activities
Starting with the NP system of electrophotography in the 1960s, Canon's defensive intellectual properties, such as bubble jet, interchangeable lenses, consumables, and production engineering technology, have been the bases of our current businesses for many years, while our offensive intellectual properties have greatly assisted our response to the computerization and digitization of cameras and printers. These have contributed to the development and expansion of our businesses.
Although these basic concepts of IP activities have been handed down unchanged, our IP strategies and tactics have changed with the times. For example, competitors in the camera market are rapidly changing, and IT companies that do not compete with Canon in business but do compete in patents have emerged.
Along with these developments, industries that use common IT technologies, such as automobiles and housing, have also expanded. This results in a wide expansion of the range of parties with whom we have to negotiate on intellectual property issues.
We need to innovate and evolve our litigation and negotiation strategies to keep up with the times, and to prepare various tactics to battle flexibly according to the opponent. To this end, Canon will carry out intellectual property activities to keep renewing our patent portfolio as a weapon, in line with our business portfolio and the changing times.
Canon is now trying to jump-start four new businesses: commercial printing, network cameras, medical devices and industrial equipment. We are also focusing on the creation of future businesses such as the Free Viewpoint Video System, next-generation imaging such as XR, next-generation healthcare, smart mobility and so on. To ensure the sustainable development and growth of these new businesses, the Intellectual Property Division not only applies for patents and obtains rights for the core competence technologies, but also applies for patents and obtains rights for technologies in various fields with an eye to the future to maintain a strong patent portfolio.
As a result of mergers and acquisitions, many patents that will become the core of new businesses have been created by group companies. We will enhance synergies with the intellectual property activities of Group companies in Japan and overseas, solidify the foundation of our intellectual property activities of the Canon Group, and strengthen the Group's portfolio.
The world has entered the era of the "new normal" and digital transformation (DX), and technologies essential for cyber-physical systems (CPS) incorporating AI and IoT are becoming more and more important. We must also work to solve social issues such as SDGs, taking a long-term perspective. Regardless of whether they are new or existing, Canon's products and services need to be organically linked to CPS and social issues. Accordingly, we will step up our efforts to create and utilize standard-essential patents such as those for image data compression, wireless communication, and wireless power supply in IT-related fields, as well as implementation patents used in products based on standardized technologies.
We will also work hard on intellectual property for sensors, actuators, displays, and user interfaces (UIs), which are the entry and exit points for cyber-physical space, as well as the systems that use them. We will take a long-term perspective and strengthen our initiatives more than ever for environmentally friendly technologies such as energy conservation, recycled materials and manufacturing methods that reduce waste.
In collaborative domains and domains related to social issues, we will not only create patents, but also use intellectual property to create new value, making use of our designs, trademarks and brand power and forming alliances with suppliers and users.
As Canon Group, we will make the best use of our intellectual property to secure competitive advantages and freedom for our businesses, and at the same time continue to contribute to creating a better future society with products and services that have high added value or create new value.
IP Activities in Phase VI of the Excellent
Global Corporation Plan
NEW
Our aim for Phase VI of the Excellent Global Corporation plan is to improve the competitiveness of all Canon Group operations across each of its four business areas of printing, imaging, medical and industrial through IP activities. At the same time, we are directing our efforts at supporting future business creation in areas such as next-generation imaging, which includes volumetric video and extended reality (XR, a term encompassing VR, AR and MR), next-generation healthcare, and smart mobility.
To help underpin the development and growth of these businesses, Canon's IP Division is focusing efforts on creating and commercializing IP assets relating to core competence technologies (such as optics, image processing and analysis) and technologies that will be essential for cyber/physical systems that incorporate AI and IoT.
Printing

Print engines and solutions

Canon's Printing Group works to strengthen our patent portfolio of next-generation core technologies relating to printers, such as print engines, materials, and key components. The Group also aids the differentiation of the entire printing business surrounding printers by constructing a broad patent portfolio of technologies underlying the solutions we provide to a diverse base of customers, including home users and shared office users. In addition, it maintains strong IP collaboration platforms with Group companies that support the printing business.
Imaging

From camera business to optics industry

The Imaging Group is pushing out video solutions to its camera product lines for video production and security applications by integrating network technologies, into core technologies, in addition to focusing on mirrorless cameras that take advantage of core technologies in optics and sensors. At the same time, it is expanding our patent portfolio relating to these technologies. The Group is also active in creating IP in areas that will fuel next-generation entertainment and public infrastructure. These areas include volumetric videos, XR, and other 3D-space image processing technologies as well as smart mobility tech typified by driving-assistance cameras.
Medical

New value provision to medical practice frontline / Competitiveness enhancement and business domain expansion

A large part of the Medical Group's IP strategy is developing its technology portfolio which continually creates new value for the medical field, such as AI solutions that are revolutionizing the provision of precision medicine (personalized medicine) and photon-counting CT scanners. These IP activities help generate technological synergies within the Canon Group and facilitate collaborations with research institutions around the world. They also boost our competitiveness in the diagnostic imaging field and help expand the Group's business into such domains as healthcare IT and in vitro diagnostics.
Industrial

Reforming the semiconductor industry

The Industrial Group implements both open and closed strategies using patents and knowhow in the fields of lithography systems, die bonders, OLED fabrication systems, and sputtering equipment. The Group is also focused on IoT for industrial equipment.
In the nanoimprint lithography (NIL) field, the Industrial Group is leveraging industrial-academia-government partnerships and collaborations with Canon Group companies to build a formidable patent portfolio that ranges from material technologies, elemental technologies, and mounting technologies through to semiconductor processes.

Constructing patent portfolios
NEW
Canon identifies emerging social and economic trends from various changes and developments in the business landscape and invests considerable resources into acquiring IP rights connected to our business core competencies as well as IP rights that anticipate future business trends. In parallel with this, we regularly review the value of our patents and update the rights we hold to maintain a powerful patent portfolio.
Example 1: AI-based video/image processing

Regarding video and image processing which are positioned as Canon's core technologies, we are discovering and developing new technologies based on our existing technology assets.
For example, as of March 2023, we ranked second globally for numbers of patents owned in AI-based video/image processing (on patent - families basis).
These kinds of elemental technologies are leveraged to create new technologies for image recognition in the Imaging Group or diagnostic imaging in the Medical Group, thereby contributing to the realization of better products and services. Global ranking for imaging-related machine learning / AI patent registrations

Compiled by Canon using PatentSight®by LexisNexis
(Based on March 2, 2023 data from ip-search as provided by the Swiss Federal Institute of Intellectual Property using International Patent Classification tech fields H04N and G06T)

Example 2: 3D spatial video processing

Canon is investing in image processing for 3D spaces in order to evolve the role of imaging from shooting and viewing to experiencing and applying images as well as to create new business domains. To support this, we are enhancing the construction of IP portfolios for both core competency technologies and general-purpose technologies. One area is our IP portfolio relating to volumetric videos. For example, we hold patents on the underlying technologies for high quality volumetric videos and technologies that realize the high-speed, real-time processing of enormous amounts of video data for applications in arenas and stadiums. We also hold patents that contribute to the production and distribution of volumetric videos. These technologies are being applied in areas such as broadcasts of professional basketball (US) or baseball (Japan), TV commercials, and music videos. Growth of volumetric video technology patent registrations (global registrations)

Example 3: Standardization Activities

Canon continues to contribute to the development of global technologies via active participation in standard setting organizations, utilizing not only domestic expertise but also the expertise of overseas researchers in these fields. The many inventions relating to our technical contributions continue to expand our standard essential patent portfolio. Canon's patents include technology fields of mobile communication (5G, Beyond 5G, 6G, etc.), wireless LAN (Wi-Fi, etc.), video encoding (HEVC, VVC, etc.), and wireless power transfer (Qi, etc.). The more our patents relating to next-generation technical standards are adopted in various products and services of many companies, the more the value of our patents increases, and consequently our IP competitiveness continues to grow.