Toward future research and development
Director, Executive Vice President & CTO,
Canon Inc.
Toshio Homma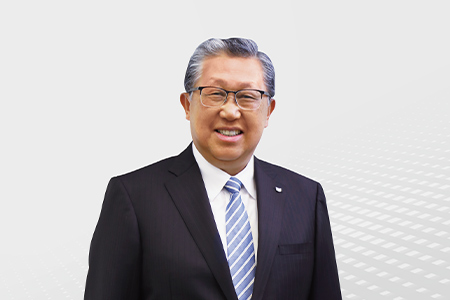 Read more
Since its founding, Canon has developed original products based on its proprietary technologies and has achieved diversification of its business. This has been supported by a research and development framework known as "core competence management," which organically combines core competence technologies that create products, core underlying technologies that form the basis of our accumulated technologies, and core value-creation technologies that support product development, including production, information systems, intellectual property, quality, and design. This framework is one of Canon's major strengths.
At R&D sites, members of the Intellectual Property Division work together with engineers to promote technology and product development activities. In this context, work is being done on a daily basis, from the perspective of IP experts, to link to the acquisition of rights the buds of new technology which engineers tend to overlook. This link ensures our IP activities protect our technology and business effectively.
On the other hand, currently, in order to realize the "new normal" society, technologies are being combined in a complex manner to solve various social issues, and proprietary technologies are being used in fields that differ from those we have seen before. In future R&D, it will be necessary to promote technology development that satisfies the anticipated needs of the future, while at the same time considering the creation of new businesses through the use of the technologies to be developed creating the necessary intellectual property, and ensuring the freedom to develop technologies and businesses using the intellectual property. To this end, we will deepen the cooperation between R&D divisions and the Intellectual Property Division to continue to create innovations to solve social issues and satisfy the needs of the future, and aim to provide new value to future society.
Strategies for Canon Intellectual Property Activities
- To continue to win -
In Canon's IP activities, in order to continue to win the battles in front of us, We have been practicing offensive and defensive IP operations from a long-term perspective, anticipating technologies and businesses to come.
To implement these, our basic strategy is to carry out a so called open/closed strategy that inter-relatedly combines the following three elements to continue to win.
01.

Patents related to core
competence
technologies

02.

Patents related to
general-purpose
technologies

03.

Inventions that others
cannot
easily make
01.

▶

Patents that protect our business in competitive domains, will not be licensed, but will be used to secure our competitive advantage.

02.

▶

Patents such as communications and GUIs, in the cooperative domain, will conclude a cross-license agreement, to secure freedom in our R&D and business, which will lead to Canon being able to provide attractive products and services.

03.

▶

Inventions that others cannot easily make are kept secret and protected as know-how, so that competitors are not able to emulate us and our competitive advantage is secured.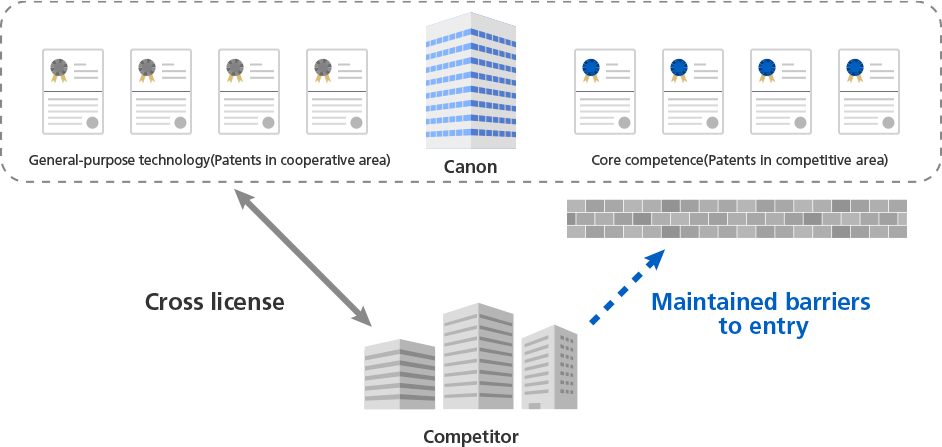 Promotion of intellectual property activities
Starting with the NP system of electrophotography in the 1960s, Canon's defensive intellectual properties, such as bubble jet, interchangeable lenses, consumables, and production engineering technology, have been the bases of our current businesses for many years, while our offensive intellectual properties have greatly assisted our response to the computerization and digitization of cameras and printers. These have contributed to the development and expansion of our businesses.
Although these basic concepts of IP activities have been handed down unchanged, our IP strategies and tactics have changed with the times. For example, competitors in the camera market are rapidly changing, and IT companies that do not compete with Canon in business but do compete in patents have emerged.
Along with these developments, industries that use common IT technologies, such as automobiles and housing, have also expanded. This results in a wide expansion of the range of parties with whom we have to negotiate on intellectual property issues.
We need to innovate and evolve our litigation and negotiation strategies to keep up with the times, and to prepare various tactics to battle flexibly according to the opponent. To this end, Canon will carry out intellectual property activities to keep renewing our patent portfolio as a weapon, in line with our business portfolio and the changing times.
Canon is now trying to jump-start four new businesses: commercial printing, network cameras, medical devices and industrial equipment. We are also focusing on the creation of future businesses such as the Free Viewpoint Video System, next-generation imaging such as XR, next-generation healthcare, smart mobility and so on. To ensure the sustainable development and growth of these new businesses, the Intellectual Property Division not only applies for patents and obtains rights for the core competence technologies, but also applies for patents and obtains rights for technologies in various fields with an eye to the future to maintain a strong patent portfolio.
As a result of mergers and acquisitions, many patents that will become the core of new businesses have been created by group companies. We will enhance synergies with the intellectual property activities of Group companies in Japan and overseas, solidify the foundation of our intellectual property activities of the Canon Group, and strengthen the Group's portfolio.
The world has entered the era of the "new normal" and digital transformation (DX), and technologies essential for cyber-physical systems (CPS) incorporating AI and IoT are becoming more and more important. We must also work to solve social issues such as SDGs, taking a long-term perspective. Regardless of whether they are new or existing, Canon's products and services need to be organically linked to CPS and social issues. Accordingly, we will step up our efforts to create and utilize standard-essential patents such as those for image data compression, wireless communication, and wireless power supply in IT-related fields, as well as implementation patents used in products based on standardized technologies.
We will also work hard on intellectual property for sensors, actuators, displays, and user interfaces (UIs), which are the entry and exit points for cyber-physical space, as well as the systems that use them. We will take a long-term perspective and strengthen our initiatives more than ever for environmentally friendly technologies such as energy conservation, recycled materials and manufacturing methods that reduce waste.
In collaborative domains and domains related to social issues, we will not only create patents, but also use intellectual property to create new value, making use of our designs, trademarks and brand power and forming alliances with suppliers and users.
As Canon Group, we will make the best use of our intellectual property to secure competitive advantages and freedom for our businesses, and at the same time continue to contribute to creating a better future society with products and services that have high added value or create new value.