IP: Our Sword, Our Shield
An IP Battalion
Deputy Group Executive Corporate Intellectual Property and Legal Headquarters Executive Officer, Canon Inc.
Hideki Sanatake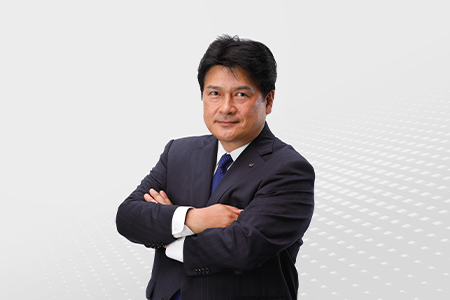 Forged in the crucible, Canon's intellectual property has grown and been strengthened by constant battles.
Starting with a dispute with the U.S. company Xerox Corporation in the 1960s over patents relating to copier technologies, and through our experiences with subsequent disputes with other competitors, we formed the powerful patent portfolio that we have today. One of the main reasons why Canon is a world leader in business is that we have a strong patent that complements our strong products and services.
Like many Japanese companies, Canon was the target of numerous lawsuits in the United States in the 1980s, including suits filed by individual inventors and suits relating to autofocus technology in cameras. One of Canon's strengths is the close relationship and trust between our engineers and IP staff members. Through their united efforts and combined wisdom, we were able to extract settlements on very favorable terms. Canon gained knowledge and experience along the way, especially with respect to U.S. litigation procedures, as U.S. litigations have occurred frequently since then.
Since the 1990s, Canon has been aggressively enforcing its own patent rights, through lawsuits and warnings, against compatible consumables for printers and copiers that infringe Canon's patents. We have pursued nearly 200 cases worldwide, in Japan, the United States (both in federal courts and the International Trade Commission), Germany, the United Kingdom, Russia, South Korea, China, Brazil, and other countries. In all of these cases, we won or obtained favorable settlements, demonstrating the strength of our patents. Particularly in Japan and South Korea, Canon has succeeded in establishing judicial precedents rendered by the highest courts that will become norms for later judicial practice.
Since the 2000s, the activities of Patent Assertion Entities (PAEs) — organizations that conduct no business of their own and seek to profit by enforcing patents — have become commonplace, mainly in the United States. Since a PAE has no business or products, Canon's vast patent holdings cannot be used as a countermeasure. Even in such cases, however, Canon will not give in to its adversary's demands, and instead will use all available means to defend itself, once again based on the close cooperation of our engineers and IP staff members, and using the knowledge and experience we have gained through our prior U.S. litigations. In a proceeding filed by a PAE in 2012, Canon was the only remaining company after all other defendants settled and fought for six years to the bitter end, until the PAE's claims ultimately were dismissed.
Canon's IP DNA has been passed down from one generation to the next. Through the combined efforts of hundreds of IP staff members, we will take whatever measures we can to fight, both in enforcing our own patents and defending against the claims of others, and never will surrender or retreat.