Canon Intellectual Property
Message
Canon intellectual property, always with innovation
Chairman & CEO, Canon Inc.
Fujio Mitarai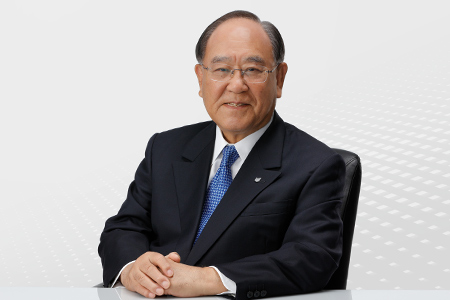 Read more
Canon has always demonstrated the "enterprising spirit" that is part of its corporate DNA, and has continued to grow through innovation that responds to the needs of the times. Canon was founded in 1937 in the camera business, and in 1964 developed a desktop electronic calculator as an electronic version of a calculating machine. This desktop electronic calculator, achieving a compact size, was the first in the world equipped with a numeric keypad arrangement, which subsequently became the de facto standard. In 1965, Canon perfected its original electrophotography technology, the NP method, and in 1977 invented thermal inkjet technology, which was commercialized as a printer in 1985, helping to increase productivity in offices and contributing to the popularity of printers in ordinary homes.
Today, Canon continues to innovate in a variety of fields as digital transformation/information technology advances. All of these innovations have been supported by our intellectual property activities. In Canon's R&D, we often repeat the mantra "Read a patent, rather than a paper; write a patent, rather than a report." This has been passed down from generation to generation: we take our original technology very seriously.
To realize the Japanese government's vision of an "intellectual property nation", I myself became one of the first members of the Intellectual Property Strategy Headquarters of Japan in 2003, and have been involved in the establishment of the Intellectual Property High Court, law schools and IP professional graduate schools. We are committed to realizing a future in which not only Canon, but all industries in Japan and throughout the world, will become stronger through intellectual property.
Canon's corporate philosophy of kyosei aims to create a society in which all of humanity can live, work, and be happy together for many years to come. Canon is fully committed to creating new value and solving social issues through innovation supported by intellectual property, with the aim of realizing a better society.
The direction of Canon intellectual property
Adviser, Canon Inc.
Kenichi Nagasawa
(As of April 1, 2023)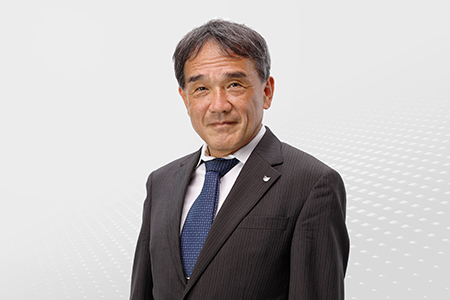 Read more
It was in 2002 when "Canon Patent Unit" a book like a bible for us on intellectual property strategy was published . The two principles of Canon Intellectual Property that have been thoroughly carried out since the time of the publication of that book are "to win the battles in front of us" and "to predict the future and reflect a long-term, high-level perspective in the corporate management". The basic stance of our IP division in fulfilling its role is to always be conscious of these two different timelines, and to implement strategies one after another. I myself have been working with the obsession to "win".
As we entered the twenty-first century, "the cloud" was born. In order to respond to the era known as the fourth industrial revolution, we have been working to resolve IP issues with world-renowned ICT companies. We have also resolved IP issues with companies in different industries, which became relevant in the cross-industrial trend. Currently, major changes in society are anticipated due to social needs such as the SDGs, economic security issues, the COVID-19 pandemic and the arrival of the "new normal" era. So, what we need now is to read the signs in businesses where major changes are expected. It goes without saying that it is extremely important in terms of intellectual property strategy to grasp the signs of such changes as early as possible, and to consider and implement appropriate policies. However, it is not easy to implement policies based on a long-term strategy and bring them to fruition, as sometimes opinions differ within the company, not to mention when negotiating with other companies with conflicting interests: things never go as planned.
What is of help for fulfilling such goals is to keep winning the battles before us now. If we keep winning, potential business competitors will avoid IP disputes with Canon. Also, by continuing to win, the IP division will have a louder and more influential voice within the company, which in turn will support long-term management of the company.
Canon Intellectual Property is also determined to contribute to promoting whole Japanese industry as a representative IP organization in Japan, beyond the framework of a single company. Ultimately, I am convinced that promoting Japan's industry will strengthen Japan's voice, and lead the world in a better direction from the difficult situation we are facing now.
Basic Concept of IP Activities
Canon's growth as an R&D-led company is grounded in its development of new markets and customer segments by using original technologies to create high-quality products and services that are differentiated and attractive. Against this backdrop, Canon's intellectual property activities emphasize supporting business development. In order to support the development of our business, Canon's IP Division formulates and pursues IP strategies that look ahead to the next 10-20 years while anticipating emerging trends.
While we do not change our basic approach to IP activities, we modify our tactics in order to keep up with the changing times.
Integrating IP Activities
Company-wide
Canon is distinguished by the fact that our intellectual property activities permeate the entire company. Canon has a tradition of appointing executives with a background in IP, which means that intellectual property activities are firmly integrated and their significance is well understood throughout the company. As a result, our IP Division is able to work closely not only with R&D but with all divisions, from production to marketing, in promoting related activities.
With all divisions acting as a team to create and protect intellectual property, Canon is able to carry out world-class IP activities.
IP Management System
In Canon Group, Canon Inc. works with Group companies(Sales companies and R&D companies) to formulate a set of global management rules, specifying matters such as roles and responsibilities in the handling of intellectual property and procedures for setting IP policy.
This approach enables us to coordinate IP activities across the group and collaborate as needed in legal proceedings and licensing activities. By working together we make effective use of Canon Group's patents and strive to maximize profits by optimizing the patent portfolio.

Related Articles
You can find out more about Canon's intellectual property in the publications listed here.