TOKYO, October 24, 2019—Canon Inc. announced today that development is underway on the EOS-1D X Mark III, the newest entry in the EOS-1 series highly trusted by professional photographers in such fields as sports and portraiture for its high performance and reliability. The new model will deliver enhanced image quality, continuous shooting and operability over its predecessor, the EOS-1D X Mark II (released in April 2016).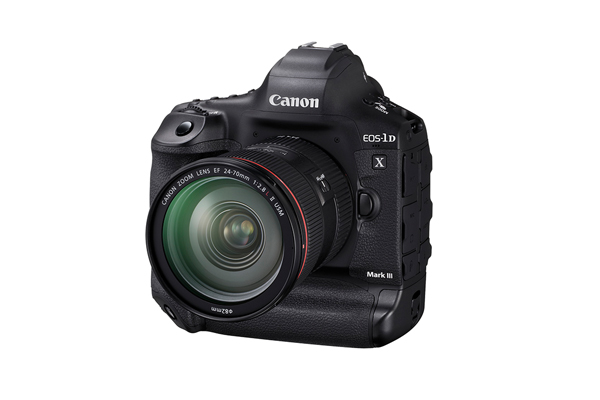 EOS-1D X Mark III
Shown with EF24-70mm f/2.8L II USM
This year marks the 30th anniversary of the birth of the EOS-1 Series flagship model of Canon cameras, which began in 1989 with the release of the EOS-1. Based on the original EOS concept of delivering automated performance in accordance with the will of the user the EOS-1 was designed to meet the most demanding professional needs with state-of-the-art technology, top-class functionality, durability, strength and reliability.
In 2001, Canon released the company's first digital flagship camera, the EOS-1D. Ever since, the camera and its successor model have delivered high image quality and high-speed continuous shooting along with functionality supported by the highest level of Canon technology, earning renown from professionals on the front lines of such fields as journalism, sports, commercial and nature photography.
Over the past several decades, Canon has also continued to provide behind-the-scenes support for journalists at sporting events. With the aim of "capturing and preserving decisive, thrilling moments from top-class athletes and intense competition," Canon has operated camera support centers at a wide range of sporting events in order to ensure photographers are always ready to capture the action. What's more, experience and feedback from these professionals help influence development of future products, enabling the company to continue providing ever more reliable camera technology.
With the introduction of the EOS-1, equipped with state-of-the-art technology and top-class functionality, and the implementation of these features through the product lineup—even down to entry-level models—Canon serves the needs of customers at various levels. Going forward, the company will continue to advance its core optical technologies and push the limits of competitive and reliable camera and lens manufacturing in order to support the further evolution of photographic and visual expression.
Reference
The EOS-1D X Mark III will be on display as a reference exhibit at the Canon booth during PHOTOPLUS, the largest annual photography event in the U.S., held from October 24 to 26, 2019 in New York City.