TOKYO, November 16, 2020—Canon Inc. announced today that the company has commenced sales of the MPAsp-E903T, a new flat panel display (FPD) lithography system that is capable of resolving 1.2µm1 (L/S) 2 features across Generation 6 glass panels3 and supports the production of higher-definition next-generation small- and medium-size displays.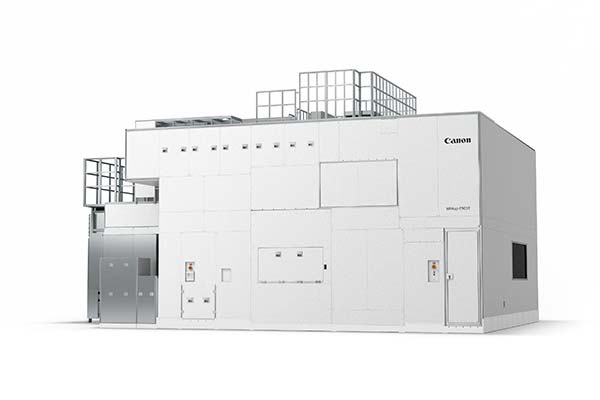 MPAsp-E903T
Along with the spread of organic LED (OLED) technology, as well as a trend toward high-definition for displays, the size of smartphone displays that are thin, lightweight and foldable are also becoming larger. Meanwhile, displays for such applications as VR are becoming smaller and more diversified. Canon's new FPD lithography equipment helps meet the needs for even higher resolving power—essential for next-generation displays—and helps contribute to the production of a wide range of panels.
The MPAsp-E903T is the first4 FPD lithography system to utilize a deep ultra-violet (DUV) broadband light5 source. Leveraging the advantage of its Mirror Projection Optical System, which minimizes chromatic aberration even if wavelengths change, the system employs a new light source that realizes shorter wavelengths than ultraviolet light that has been used thus far, and thanks to a newly developed projection optical system the MPAsp-E903T makes possible resolving power of 1.2µm. What's more, resolving power of 1.0µm is also achievable through the use of such ultra-high-resolution technologies as phase shift masks6.
As well as a new projection optical system and new illumination system, the MPAsp-E903T features new exposure modes that enables efficient reproduction of various circuit patterns under optimized conditions. In addition, when used alongside the MPAsp-E813H (released in September 2014), which shares such features as the same photomask size and interface, manufacturers can create a flexible production line based on their process needs.
Thanks to an improved component layout and temperature control system, the MPAsp-E903T achieves a high overlay accuracy of ± 0.25µm. Through such improvements, Canon helps to meet the needs of users who require higher-definition displays.
Canon will commence sales of the MPAsp-E903T from late November 2020.
1

Micrometer (μm): 1μm = one millionth of a meter = one thousandth of a millimeter

2

Line and Space. Refers to patterns in which lines and spaces are separated by consistent intervals.

3

Glass panels with dimensions of 1,500 mm x 1,850 mm, primarily used in the manufacture of small- and mid-size displays including those for smartphones.

4

Among FPD lithography systems. As of November 9, 2020. Based on Canon research.

5

Ultra-violet light used by FPD lithography systems that realizes a shorter wavelength than conventional ultra-violet light.

6

Technology that controls the phase and intensity of light in order to increase the resolving power of the lithography system.
Related Links