Semiconductor Lithography Equipment
FPA-3030iWa
Low NA i-line stepper for power devices, IoT related devices, and smaller substrates of 200mm or less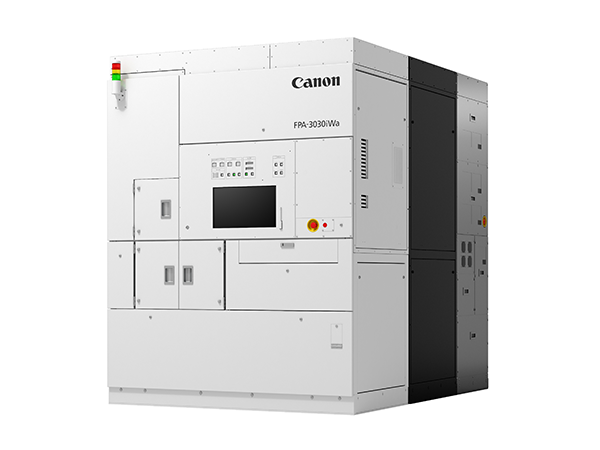 Basic Information
Model Name: FPA-3030iWa
Features
The FPA-3030iWa supports smaller substrates which are 200 mm or less in diameter.
*A wide range of wafer sizes from 50mm (2inch) to 200mm (8inch) are supported.
*FPA-3030 platform that has already demonstrated high reliability among customers in the market since release.
*Wide exposure field of 52mm x 52mm is available.
Supports a wide range of needs for manufacturing of various devices and their processes
A 52 mm x 52 mm wide-field projection lens with a variable numerical aperture (NA) ranging from 0.16 to 0.24 delivers a large depth of focus (DOF) and enabling both high-precision exposure and creation of line width patterns with high uniformity.
Supports a variety of different wafer sizes and materials
The FPA-3030iWa can be equipped with a handling system that enables the selection of wafer diameters from 50mm (2inch) to 200mm (8inch) to support a variety of different compound semiconductor wafer sizes and materials.
Adopts an off-axis alignment scope with enhanced robustness
The FPA-3030iWa employs an off-axis alignment scope that measures wafer alignment marks through an optical path that does not pass through the projection lens. This allows the off-axis alignment system to use a wide range of alignment illumination wavelengths, providing robust alignment process optimization.
Improved throughput through newly redesigned hardware and software
The system updates make the FPA-3030iWa compatible with new options including wafer transfer functions supporting warped and transparent wafer processes such as silicon carbide and alignment system options that allow simultaneous X & Y alignment mark measurement to increase stepper productivity.
Specifications
Resolution
≦ 0.8 µm
NA (Numerical Aperture)
0.24-0.16 (Variable)
Reduction Ratio
1:2
Field Size
52mm x 52mm
Exposure Wavelength
i-Line 365nm
Reticle Size
6inch
Wafer Size
50mm(2inch) / 75mm(3inch) / 100mm(4inch) / 150mm(6inch) / 200mm(8inch) (Selection)
Overlay Accuracy
≦ 100nm
Main Body Dimensions
(W) 1,900× (D) 2,600× (H) 2,450mm
Major Options
Wafer handling Kit for Special Substrates
PC Remote Console
GEM-compliant online software
Pellicle particle Checker