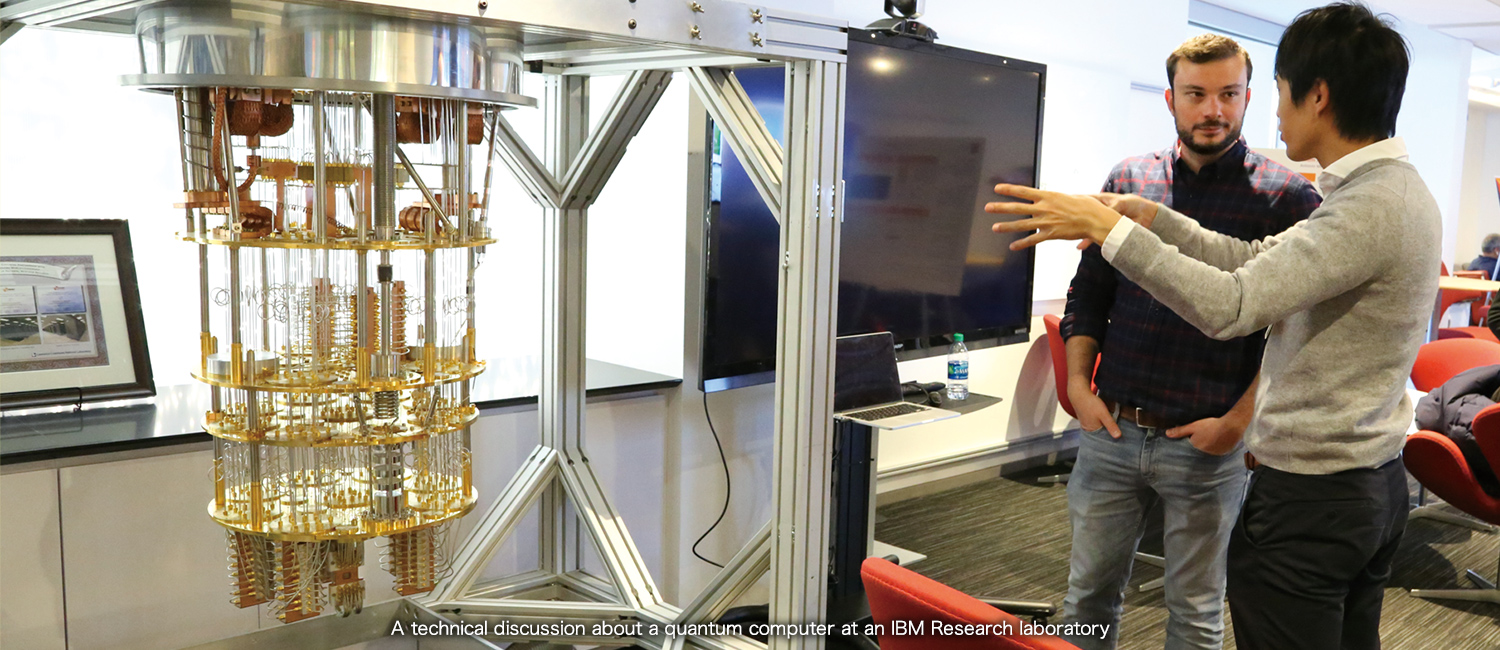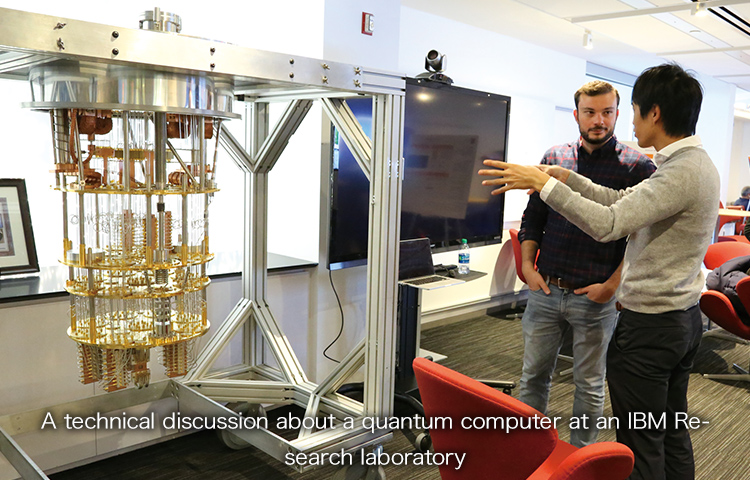 Open Innovation
Canon is engaging in open-innovation-based research and development with research organizations internationally, covering such broad themes as quantum computing.
When combined with Canon technologies, the results of this R&D generate new value for society.
2019/7/11Activity introductions
Incorporating Cutting-Edge Technologies through Open Innovation
Vast resources are required to be an early adopter of such complex, state-of-the-art technologies as AI, IoT and quantum computing towards tackling the issues facing society. It is unrealistic to expect any single entity to explore everything by themselves. Hence open innovation is becoming an important strategy for companies to strengthen their R&D capabilities.
Artificial Intelligence (AI) is a technology with great potential, and ambitious AI research is being pursued around the world. Open innovation is an effective way to obtain research results quickly and combine them with Canon technology to provide new value to society. Additionally, since one company is limited in its ability to collect the vast amount of data required to train AI, collaboration is crucial.
Quantum computing, with its ability to process vast amounts of data at ultra-high speeds, is another area of great interest. Through engaging in open innovation, Canon is taking steps towards creating unprecedented, new products and services that utilize these cutting-edge technologies.
Merging Canon Technologies with the Results of Open Innovation
An initiative with the IBM Research Frontiers Institute (RFI) is just one example of the open innovation initiatives that Canon is currently pursuing. The RFI works with partners in various industries and fields all over the world, and conducts basic research that leads to business innovations 10 or 15 years down the line. Canon sends young engineers to RFI where they engage in R&D work with the ultimate aim of commercialization. We examine their results and strategize how to cross-fertilize the ideas with the many technologies possessed by Canon to create completely new products and services.
Neuromorphic Devices to Solve Problems with Using AI
One area of Canon research at RFI is neuromorphic devices. The further utilization of AI is expected for such applications as language processing and video processing in cameras. However on conventional architectures, these AI applications consume high compute and power. The solution is a neuromorphic device that imitates the structure of the brain. By building analog non-volatile memory (memory that can retrieve stored information even after the power is turned off) into the device, low power consumption can be achieved for large-scale parallel operations.
A paper about neuromorphic device research in RFI was published in Nature, Vol. 558 Issue 7708, 7 June 2018. The paper demonstrates the feasibility of a highly power efficient neuromorphic device that can perform as many as 28,065 billion operations per second at 1 watt. The results of demonstrating the future potential of these neuromorphic devices are considered to be a big step for AI technology which will process a large amount of data in the future.
This research is being conducted at IBM Research—Almaden in San Jose, California, a research laboratory that brings together hundreds of researchers from companies and research institutions around the world. The research group has experts in diverse fields. Meetings are for everyone to freely express their opinions, and new ideas emerge from the interaction of researchers from multiple disciplines.
Through these new collaborations in research and development, Canon will accelerate its efforts to address societal issues.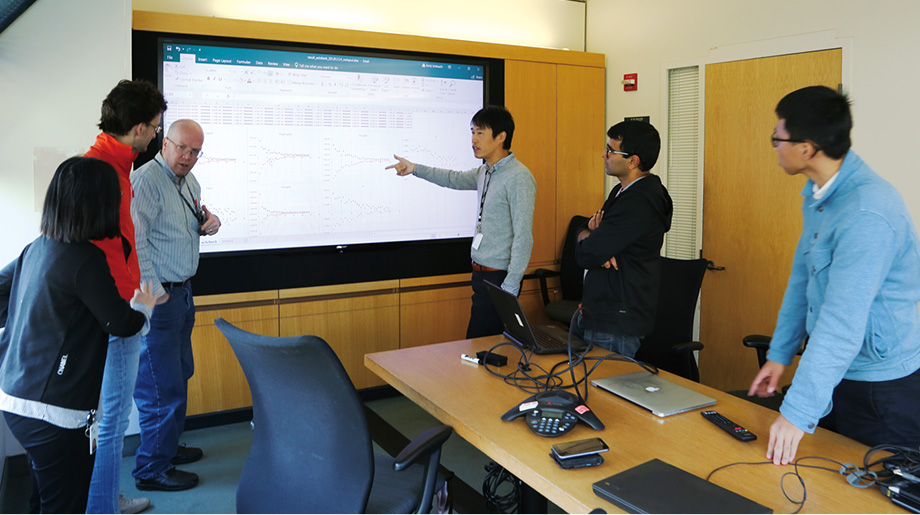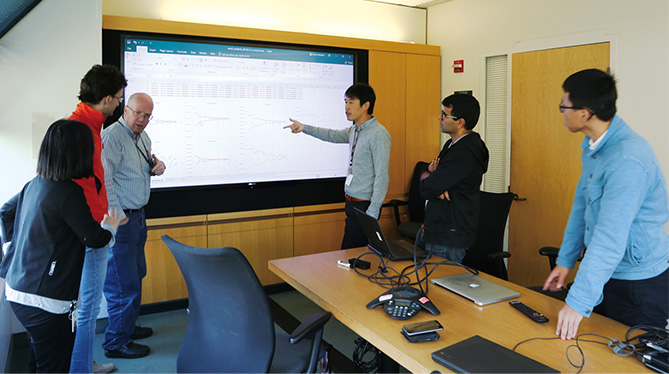 Neuromorphic device development team design meeting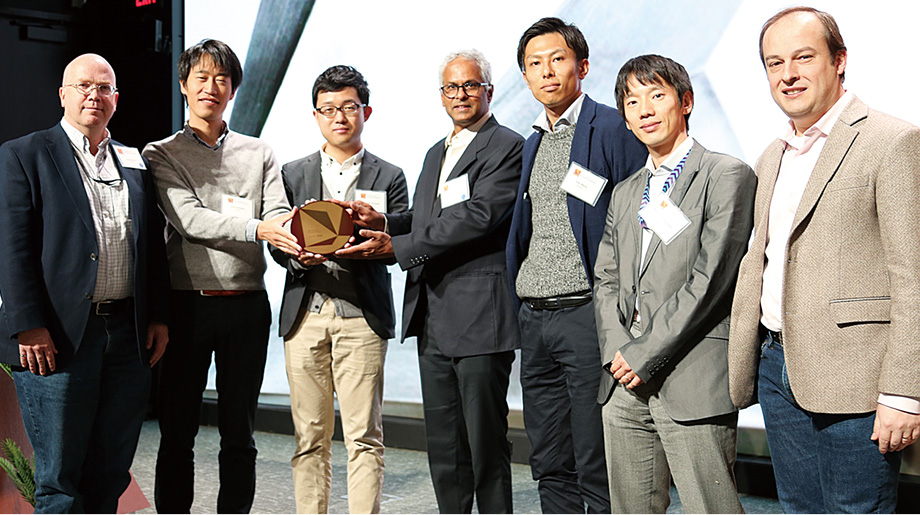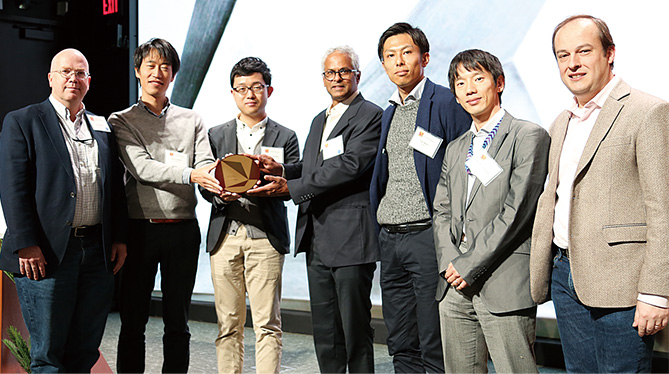 IBM's project leaders and Canon's development team at a meeting to announce their results at the IBM Thomas J. Watson Research Center
Synaptic weights in a neural network are implemented with simple conductance pairs that are compact and achieve low power consumption on a neuromorphic device.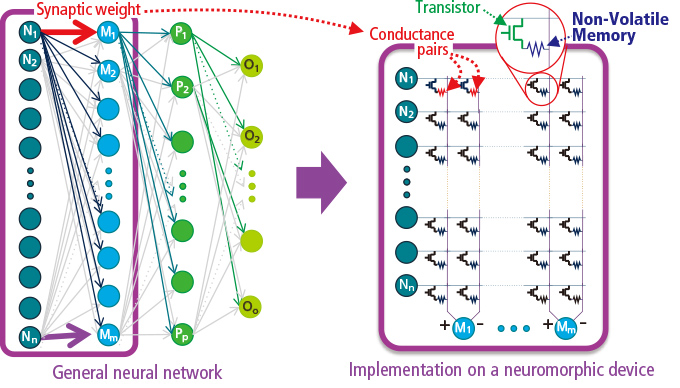 Implementation of general neural network on a neuromorphic device which the Nature papers* are based.
*
Nature Volume 558 Issue 7708, 7 June 2018