Technology in Products

Ultra-high-sensitivity Multi-purpose Camera
A camera with ultra-high sensitivity that realizes images, under such low-light as a moonlit night sky, as if they were captured in daytime
This "ultra-high-sensitivity multi-purpose camera" can capture images during both day and night, helping meet a wide range of needs from disaster prevention and crime prevention to video production. In addition to monitoring natural disasters, it can be used in the monitoring of important facilities such as airports and waterfront ports, as well as for observing wildlife. For such applications, the camera must be equipped with ultra-high sensitivity that allows for color images to be captured even at night, as well as environmental resistance that allows for operation in harsh environments.
2022/09/12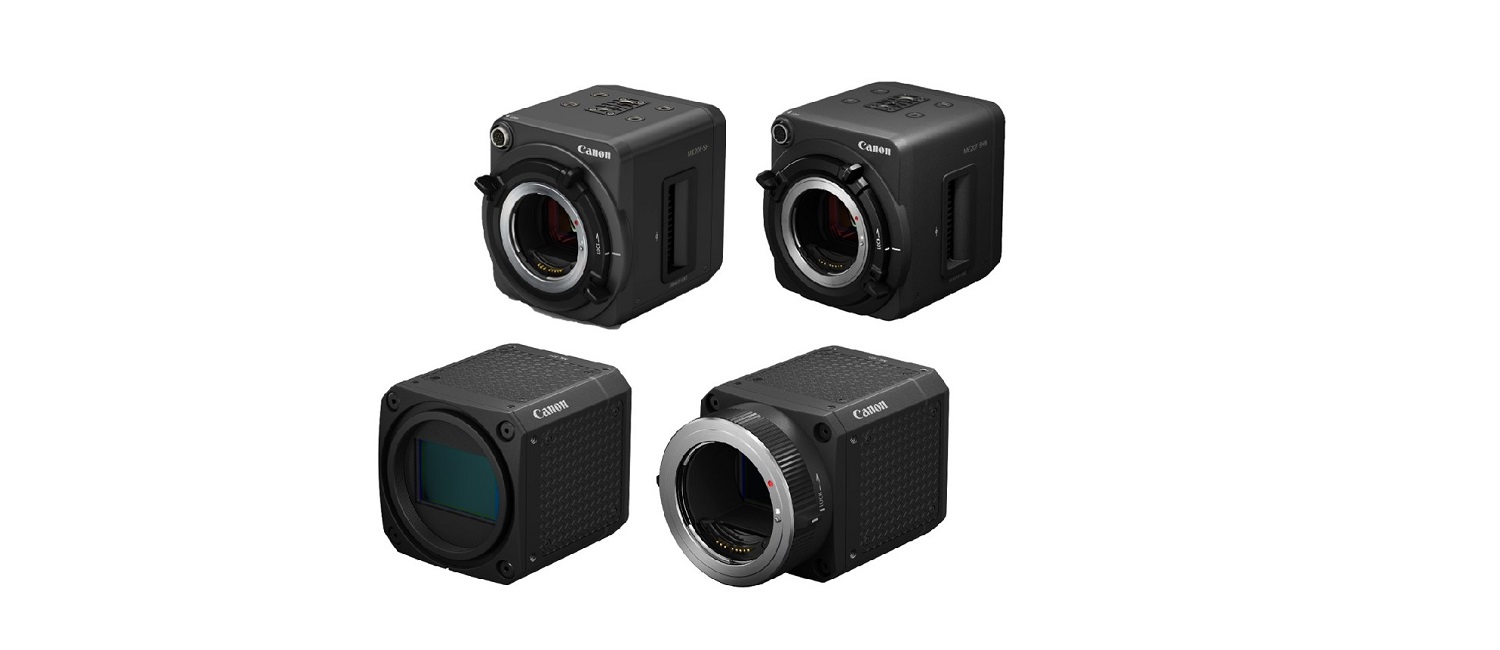 How an ultra-high-sensitivity multi-purpose camera works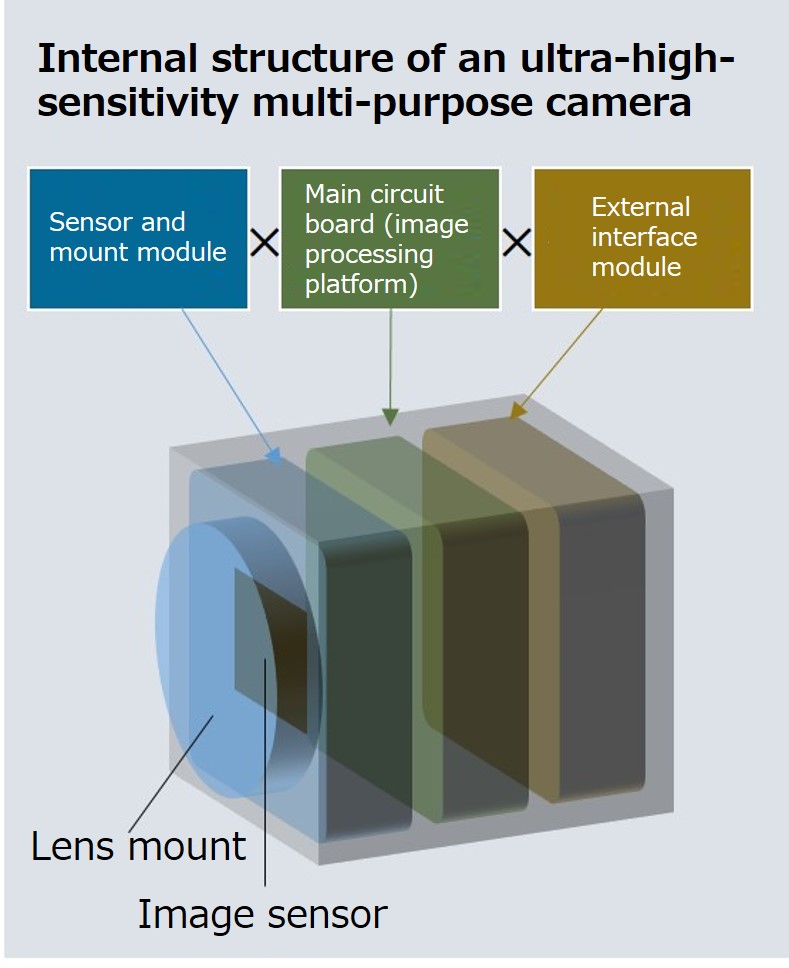 An ultra-high-sensitivity multi-purpose camera is capable of capturing bright, color videos, even in dark places where there is only a small amount of ambient light. The camera comprises of a lens mount, image sensor, image processing platform and external interface module. Based on the camera's intended use, an appropriate interchangeable lens is chosen and attached via the lens mount. The camera captures the smallest amount of light in the dark through the lens. An ultra-high-sensitivity image sensor then converts the light into electrical signals. The image processing platform performs noise reduction, converts the signal into video data, and then it outputs the data to a monitor or other device via an external interface.
Canon's ultra-high-sensitivity multi-purpose camera technology
Canon's proprietary image sensor and image processing platforms enable ultra-high-sensitivity imaging with a minimum subject illumination of 0.0005 lux*1 or lower*2.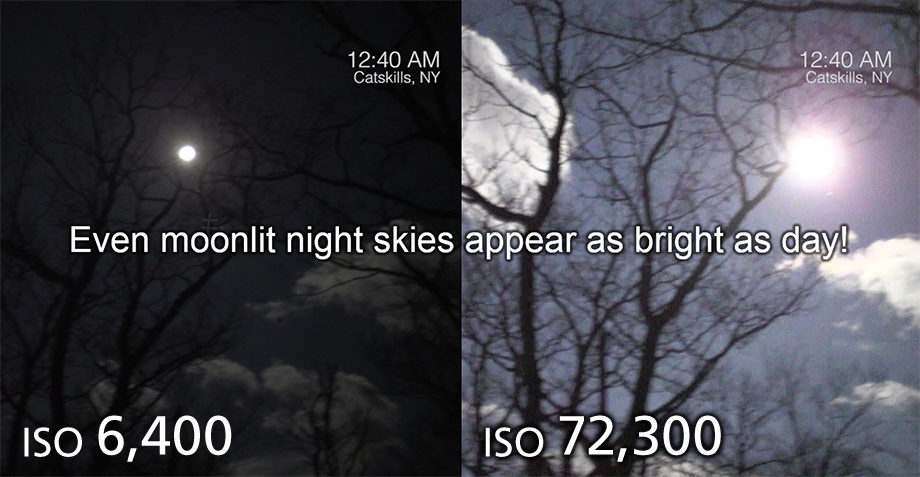 *1 A unit indicating the brightness of light landing on a surface illuminated by a light source
*2 An ISO sensitivity equivalent to 4 million at a maximum gain of 75 dB
35 mm full-size CMOS sensor
The key to increasing the sensitivity of a camera is increasing how much light can be captured by the camera. This can be achieved by increasing the size of the image sensor. Canon has adopted a large 35 mm full-size CMOS sensor that incorporates proprietary technology in the pixel and readout circuits. To provide even higher sensitivity, the sensor is designed to capture as much light as possible in each pixel. Generally, there is a trade-off between sensitivity and resolution: increasing the number of pixels to increase the resolution reduces sensitivity because the pixel area is smaller, and conversely, increasing the pixel area to increase sensitivity reduces the resolution because there are fewer pixels.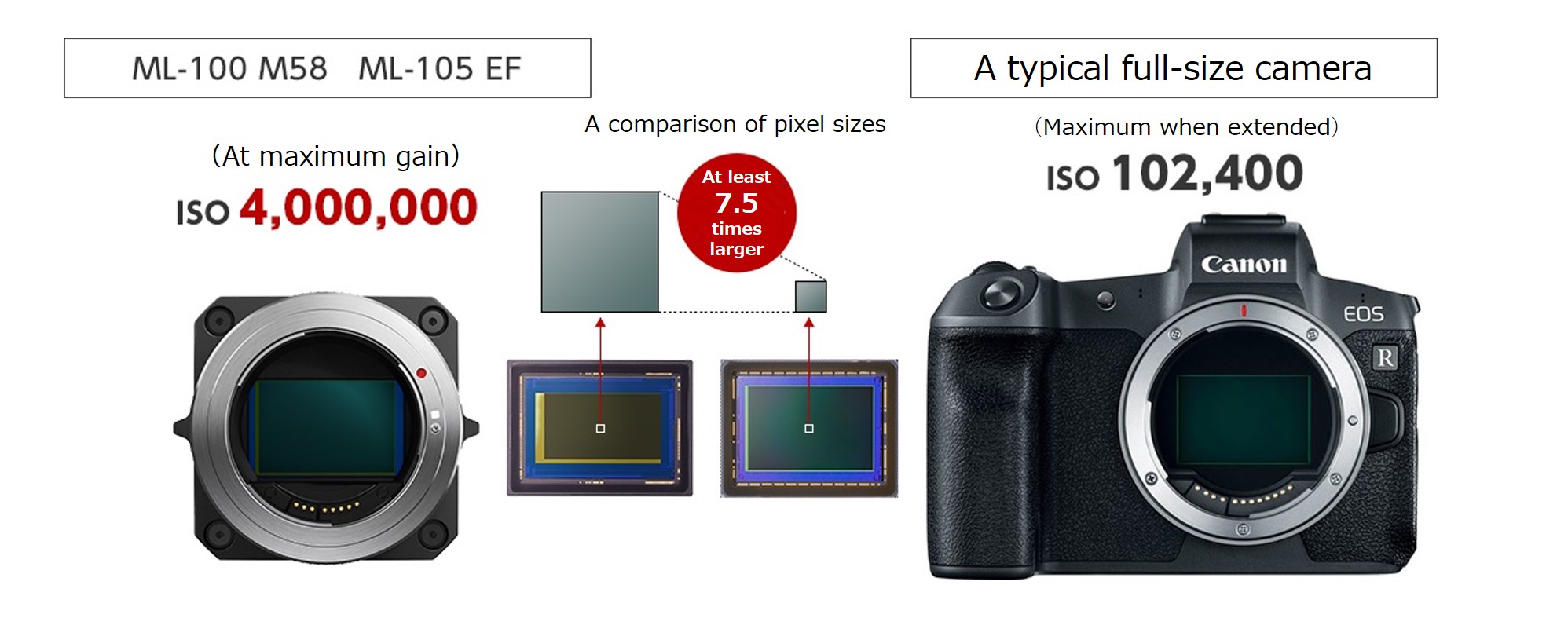 A comparison of the area per pixel
Canon's ultra-high-sensitivity multi-purpose camera specializes in recording full HD video with a resolution of 1920 x 1080, thereby increasing the light-gathering area per pixel. These sensors are allocated with huge pixels measuring 19 μm*3 per side, which is more than 7.5 times larger than the area of pixels comprising CMOS sensors used in Canon's full-frame interchangeable-lens cameras. To ensure that light reaching each pixel is fully converted into electrons, microlenses are placed above the pixel to maximize the amount of light captured and delivered to the photodiode.


*3 1 μm (micrometer) is one millionth of a meter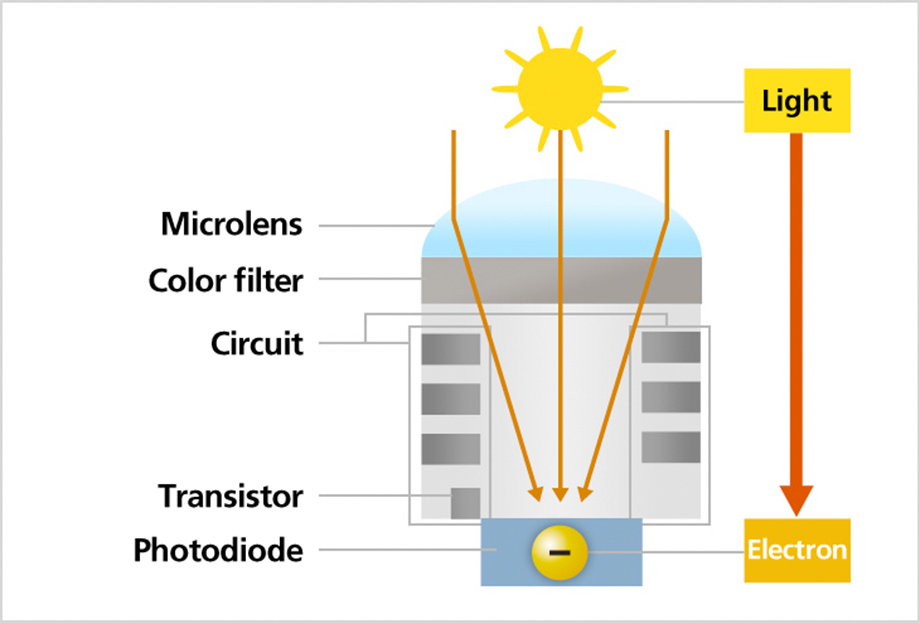 However, larger pixels require a considerable amount of time to guide the electrons, converted from light via the photodiode, to the readout circuit. To facilitate the flow of electrons, Canon has created a multi-level potential structure within the pixel. The structure is optimized featuring newly designed items including the number, shape, and angle of the levels, so that information can be read out efficiently even from large pixels.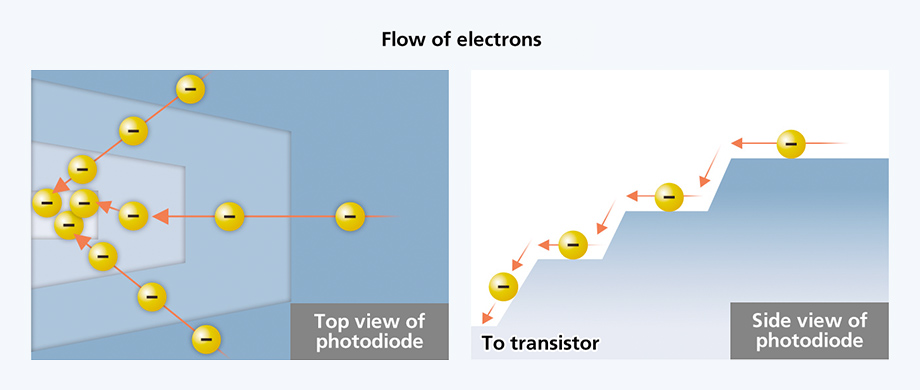 Noise reduction technology
When pixels are enlarged to increase sensitivity, signal noise tends to appear in images. Canon uses on-chip noise reduction technology to eliminate noise that appears in fixed patterns. Random noise is also suppressed by the complete charge transfer technology of intra-pixel, thus realizing high image quality. Because random noise increases as a signal is processed at higher speeds, Canon's CMOS sensors are equipped with a proprietary technology that amplifies the signal in advance of readout, depending on the specified sensitivity, and also sends signals with a high S/N ratio to a high-speed amplifier. Other systems generate a large amount of random noise due to the high-speed amplification process. Unlike those systems, however, Canon's CMOS sensors are low-noise sensors that can withstand the demands of high sensitivity and long exposure.



On-chip noise reduction technology to eliminate fixed-pattern noise
Fixed-pattern noise is caused by, among other factors, variations in pixel amplifiers. Such noise always occurs in the same pixel, even when images are taken at different times. Canon's on-chip noise reduction technology reads out only the noise information for a single optical signal and then it reads out the noise information on top of the optical signal. It subtracts the former from the latter to reduce the fixed-pattern noise to near zero.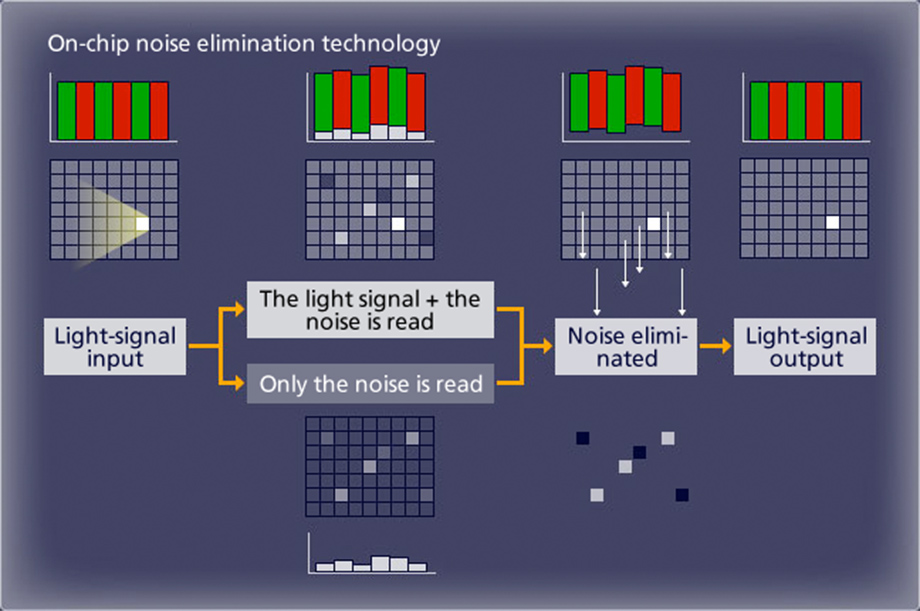 Intra-pixel complete charge transfer technology to suppress random noise generation
Completely resetting the photodiode (the unit that stores a charge) can suppress random noise. Therefore, Canon has separately designed the unit storing the photoelectric charge and the signal readout unit independent of each other. First, the noise charge remaining in the storage unit is transferred to the readout unit to completely reset the photodiode and retain and read out the initial noise value. Then, the photoelectric charge and the noise charge are read out together. The effects of random noise are suppressed by subtracting the information on the initial noise value, thereby improving the S/N ratio of the sensor output.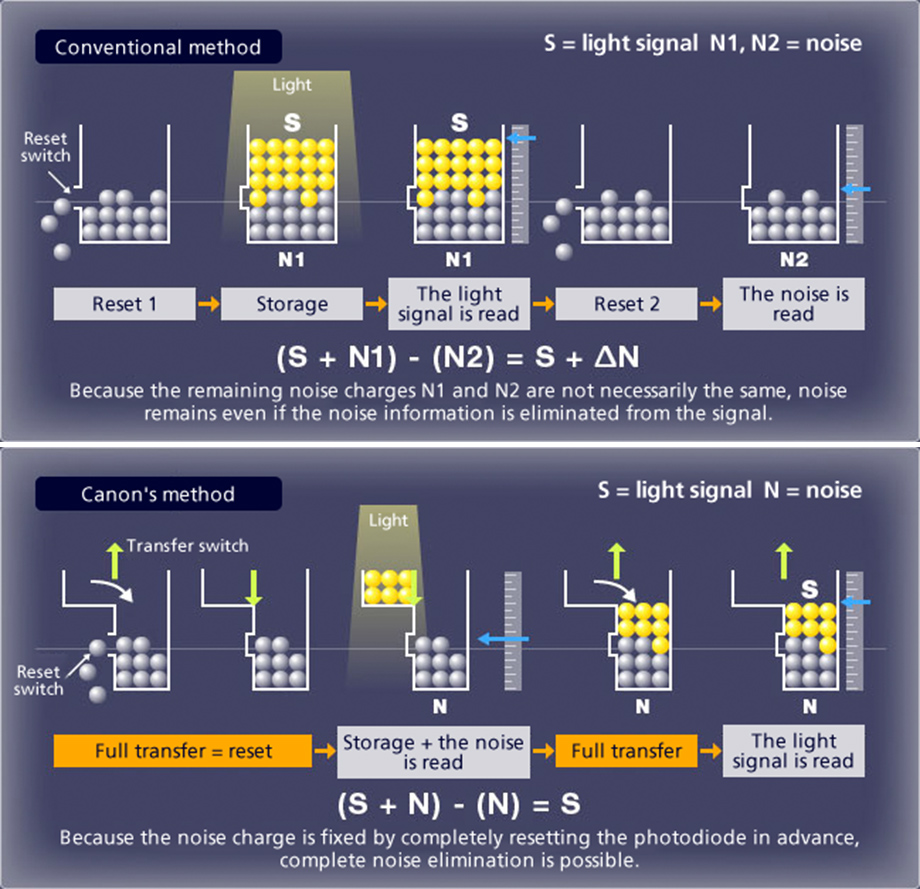 Dynamic range
The image processing platform is responsible for converting the electrons received from the image sensor into video and images. It also corrects sensor information and processes noise, making it an important factor that influences the quality of an image.
Canon's DIGIC DV4*4 image processing platform processes the large amount of data sent from the sensor at high speeds, thus reducing blocked up shadows in low brightness areas and blown highlights in high brightness areas. These often occur during low-light shooting. Even in settings where the luminance in bright areas is more than 4,000 times that in dark areas, the camera is able to capture clear images while maintaining a sufficient S/N ratio. The camera has more than twice the dynamic range of conventional video cameras.
*4 The ML-100 M58 is not equipped with DIGIC DV4
Compact design, environmental resistance, and durability
Canon's ultra-high-sensitivity multi-purpose cameras have a box-shaped design that facilitates easy integration into a variety of system equipment for monitoring, research, and surveys. Thanks to a redesign of the interface and internal structure, the ML-105 EF and ML-100 M58 in particular have compact designs with a volume of less than 50% of that of their predecessor model, the ME20F-SH. The previous model had a fan that required intake and exhaust ports on the side of the camera. That fan has been removed in the new models in favor of an air-cooling system that dissipates heat from the device casing. Moreover, aluminum alloy paneling is used on the outside of the device, and the panel joints are sealed. As a result, the new camera has a high environmental resistance, including durability equivalent to four items*5 of the MIL-STD-810G procurement standard specified by the US Department of Defense. The camera also provides dustproof and waterproof performance equivalent to IP54*6, a rating for protection against water and foreign objects, specified by the International Electrotechnical Commission.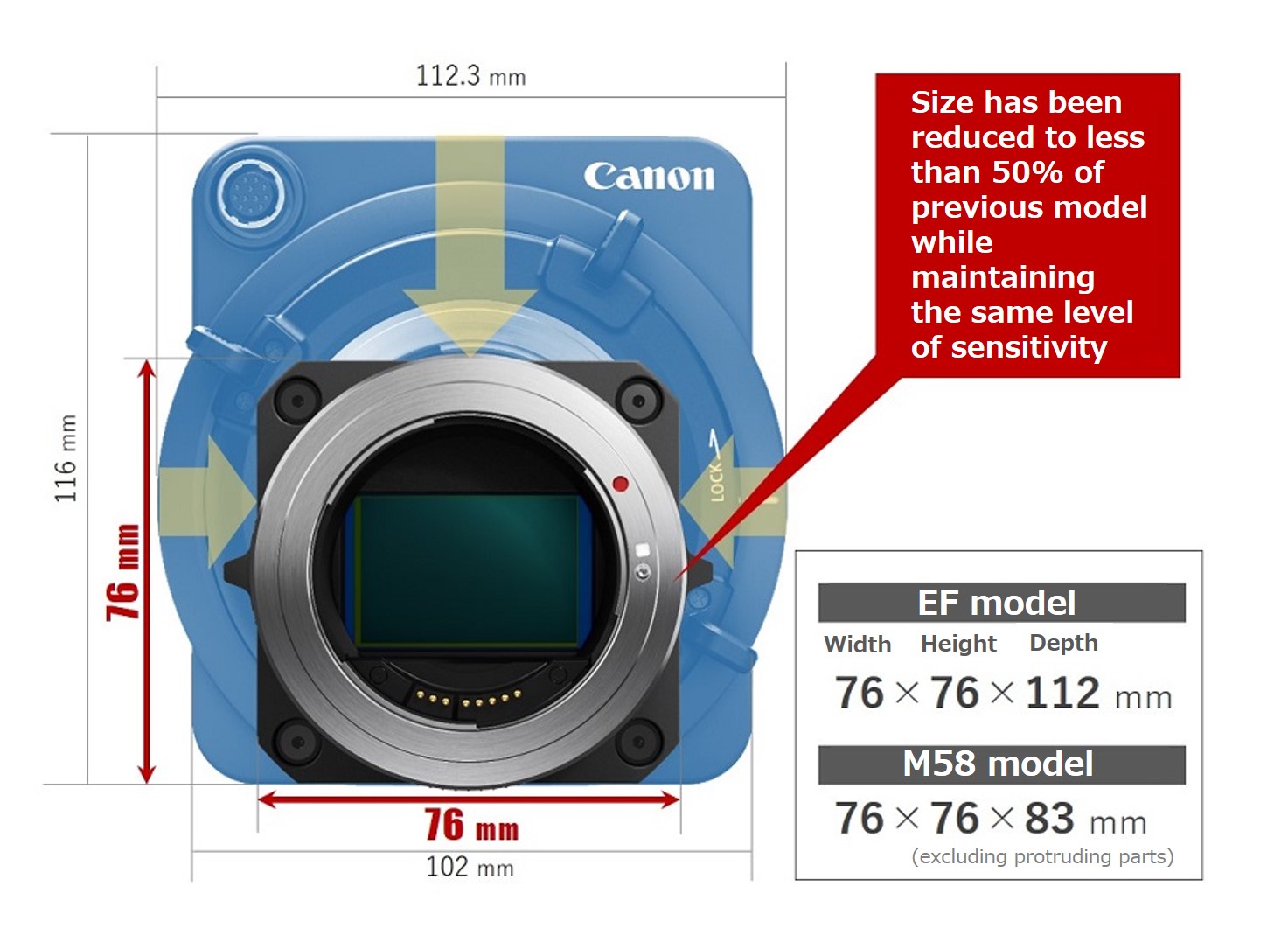 *5 High temperature operation and storage (Method 501.6-High Temperature), low temperature operation and storage (Method 502.6-Low Temperature), vibration (Method 514.7-Vibration), shock by dropping (Method 516.7-Shock). Measured under test conditions specified by Canon.
*6 The "5" in "IP54" indicates that "the ingress of dust does not interfere with normal operation," while "4" indicates "protection against splashing water." Measured under test conditions specified by Canon.