"Tomo-e Gozen" is a new astronomical observation system that is installed on the Schmidt telescope at Kiso Observatory, University of Tokyo. It is the first system in the world that combines video shooting with AI analysis, and is named after "Tomoe Gozen", a female warrior who was said to be serving Kiso Yoshinaka, a warload of the late 12th century during the Heian period.
Manufactured in 1974, the 105 cm Schmidt telescope offers a field of view as wide as 9 degrees (520mm on the focal plane). However, in the 1990s, small, high-sensitivity CCD replaced photographic plates as the sensor used for astronomical photography, and with that, the characteristic wide angle of view of telescopes could no longer be put to good use at the forefront of research activities.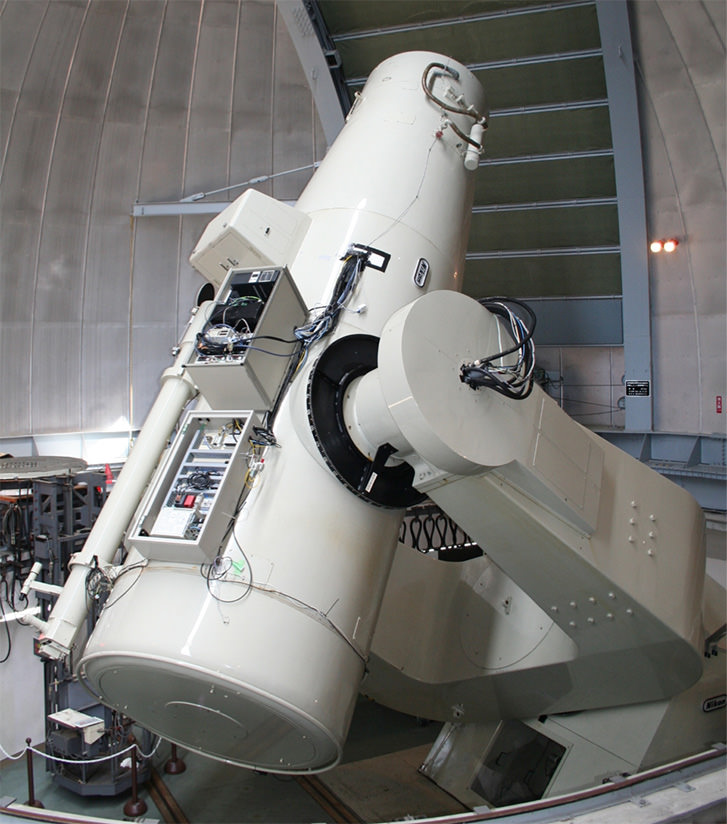 Schmidt telescope at Kiso Observatory, University of Tokyo
It was Canon's introduction of its prototype ultra-high-sensitivity CMOS sensors to the observatory that gave the telescope a new lease of life. Showing interest in the sensor, Associate Professor Shigeyuki Sako from the Institute of Astronomy, University of Tokyo successfully captured video data of many faint meteors during a test installation of the sensors on a telescope, and this eventually led to the development of Tomo-e Gozen.
Currently, the cameras installed inside large astronomical telescopes at facilities such as observatories generally capture images using CCD sensors. However, CCD sensors tend to heat up during long hours of shooting even at ambient temperature, and this creates noise as a result. To suppress noise and obtain stable images, a vacuum cooling device needs to be installed, which makes the camera system significantly bigger.
The CMOS sensors developed by Canon deliver high sensitivity, high image quality and produces little noise due to heating. The size of each pixel is 19µm* x 19 µm, an area that is more than 10 times the pixel size of conventional 30-megapixel class digital cameras. Enlarging the size of each pixel helps to improve light-gathering efficiency, thereby enabling it to capture faint light emitted from celestial bodies. A technology to reduce noise due to the larger pixel size was also developed concurrently to achieve both ultra-high sensitivity as well as low noise. In addition, the new camera system is also compact in size as there is no need for a special cooling device even at normal temperature. Equipped with 84 ultra-high-sensitivity CMOS sensors, Tomo-e Gozen delivers an ultra-high resolution of approximately 190 megapixels while enabling ultra-wide-field video images covering 20 square degrees* to be captured.