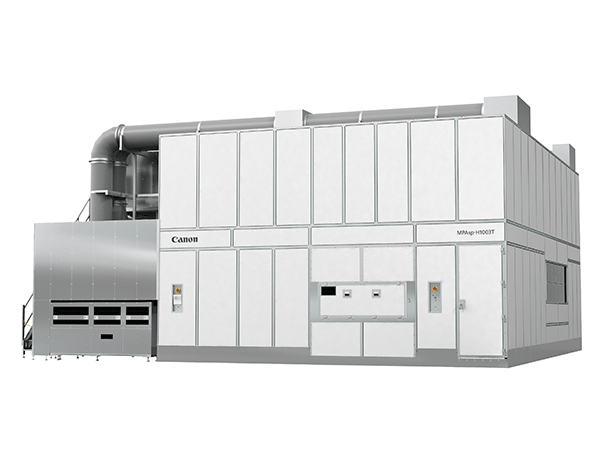 Basic Information
Model Name: MPAsp-H1003T / H803T
Features
High-definition panel production with Generation 8 glass plates
Large screen TV image quality is improving from FHD to 4K / 8K and demand for premium TVs including OLED TVs is growing. To meet this demand, Canon has developed FPD Lithography Systems to support production of large, high-definition displays.
High-definition, large panel production is made possible using MPAsp-H1003T/H803T FPD Lithography Systems processing Generation 8 glass plates (2200 × 2500 mm).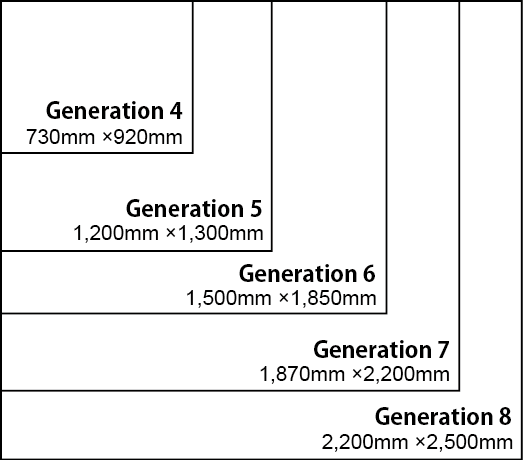 Implementation of 65 inch panel, one-shot exposure
MPAsp-H1003T FPD Lithography Systems adopt proprietary, high-precision optical processing technology developed over Canon's more than 20 years supporting display production to provide the resolution and overlay performance required for production of large, high-definition displays.
MPAsp-H1003T Systems feature a new projection optical system with an expanded exposure area that allows one-shot exposure of 65 inch panels while providing 2.0um resolution.
Improvement of overlay accuracy
By adopting magnification compensation technology proven on the MPAsp-E813H and originally applied to Generation 6 panels, non-linear shape compensation is possible, resulting in overlay accuracy improvement.
Large panel MMG (*1) with Dual Line
Efficient MMG was realized by adopting a dual line configuration in which 2 FPD exposure tools are arranged for a coater-developer tool.
(*1) MMG stands for "Multi Module on Glass", which is the method of arranging panels of different sizes on a glass plate. This can improve the use efficiency of glass plate.
Specifications
MPAsp-H1003T
| | |
| --- | --- |
| Resolution | 2.0 µm (L/S) |
| Overlay Accuracy | ± 0.45 µm |
| Projection Optical System | Reflection Projection Optical System (no magnification) |
| Reduction Ratio | 1:1 |
| Plate Size | 2,200 mm x 2,500 mm |
| One-Shot Exposure Area | 65 inch wide panel one-shot exposure |
| Main Body Dimensions | (W) 10,500 x (D) 12,100 x (H) 5,900 mm |
MPAsp-H803T
| | |
| --- | --- |
| Resolution | 2.5 µm (L/S) |
| Overlay Accuracy | ± 0.5 µm |
| Projection Optical System | Reflection Projection Optical System (no magnification) |
| Reduction Ratio | 1:1 |
| Plate Size | 2,200 mm x 2,500 mm |
| One-Shot Exposure Area | 58 inch wide panel one-shot exposure |
| Main Body Dimensions | (W) 9,000 x (D) 11,600 x (H) 5,900 mm |