Quality Management at Canon (Approach & System)
Canon's Approach to Quality
Basic quality concept: no claims, no trouble
In 1964 Canon established its basic quality concept: no claims, no trouble*. This approach to quality assurance for products and services remains unchanged today as part of Canon's corporate philosophy of Kyosei.
By providing superior quality for its products and services, Canon aims to earn the trust of customers and ensures they are 100% satisfied.
*Basic quality concept
"To contribute to the growth of the company and prosperity of the world, with the realization of 'no claims, no trouble' as our goal, based upon the company's corporate philosophy and aims." (Quality Assurance Basic Regulations, article 2)
Canon Quality
In order to increase and maintain awareness within Canon of our no claims, no trouble basic quality concept, we spread the quality assurance slogan, "Canon Quality":
Safety—quality that ensures products will not break, cause injury or malfunction.
Smartness—quality that ensures ease of use, elegant designs and customers' trust in our products.
Satisfaction—quality that ensures customers will be delighted with their purchase and use our products for years to come.
We believe that these principles are essential for all of our products and services to ensure customer satisfaction. Throughout every work site of the Canon Group, we give our utmost so that our customers may user their Canon products and services with a sense of safety, smartness and satisfaction.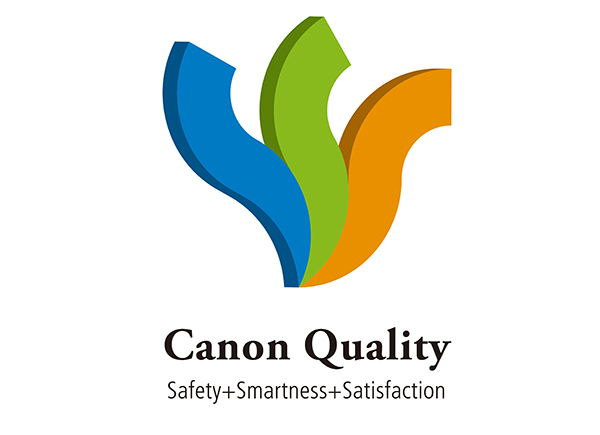 *The three "S"s which stand for Safety, Smartness and Satisfaction fan out from a central overlapping point at which the words "Canon Quality" are positioned. The fan shape's focal point represents a unifying force, while the fanning out of the "S"s represents widespread influence.
Quality Assurance System
Canon's Proprietary Quality Assurance Management System
Canon is committed to quality assurance throughout the entire manufacturing process—from product planning and design to production, sales and service. Along with information about the quality of products on the market, such feedback as customer requests are presented to product planning, R&D and other departments. This system enables us to continuously improve product quality throughout the Canon Group.
In addition, as our foundation for realizing Canon Quality, we have established our own proprietary quality assurance management system that builds upon ISO 9001 international standards for quality management.
Furthermore, each department within the company works together with our Global Quality Management Center and Group companies around the world to establish the best possible quality assurance system for each of Canon's businesses, based on our quality assurance management system and tailored to the specific regulations of individual countries and regions. Through this approach, we maintain a thorough and effective system of quality assurance.
System and Response Procedure for Quality Assurance Issues
Responding swiftly and appropriately
In the rare event that a quality assurance issue concerning one of our products does occur, Canon maintains a system for responding swiftly and appropriately—including investigating the cause, providing free product repair and publishing information. For example, if a problem with one of our products was discovered, our sales companies, located in each country or region where Canon operates, will communicate with customers and report the problem to the quality assurance department of the relevant business division at Canon's Tokyo headquarters.
The quality assurance department that receives the report will immediately begin investigating the cause of the problem and attempt to develop countermeasures. In the event of a more serious issue, the department works together with other departments within the same division, as well as the Global Quality Management Center at Canon's headquarters, Canon's legal division and public relations division. A report is made to Canon's President and/or Chairman, and the problem is quickly addressed.
If the issue necessitates a public announcement for customers, our basic response is to immediately prepare a statement to be published in such media as company notices, or simultaneously posted on the websites of Canon sales companies in each country and region.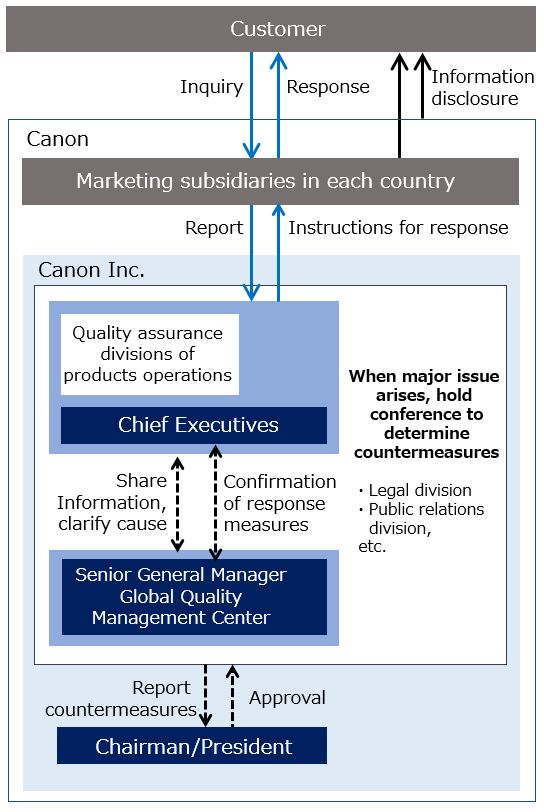 List of Content
Maintaining Trust in the Canon Brand