Canon's Approach to Quality
Basic quality concept: no claims, no trouble
In 1964 Canon established its basic quality concept: no claims, no trouble*. This approach to quality assurance for products and services remains unchanged today as part of Canon's corporate philosophy of Kyosei.
By providing superior quality for its products and services, Canon aims to earn the trust of customers and ensures they are 100% satisfied.
*

Basic quality concept
"To contribute to the growth of the company and prosperity of the world, with the realization of 'no claims, no trouble' as our goal, based upon the company's corporate philosophy and aims." (Quality Assurance Basic Regulations, article 2)


Canon Quality
In order to increase and maintain awareness within Canon of our no claims, no trouble basic quality concept, we spread the quality assurance slogan, "Canon Quality":
Safety—quality that ensures products will not break, cause injury or malfunction.
Smartness—quality that ensures ease of use, elegant designs and customers' trust in our products.
Satisfaction—quality that ensures customers will be delighted with their purchase and use our products for years to come.
We believe that these principles are essential for all of our products and services to ensure customer satisfaction. Throughout every work site of the Canon Group, we give our utmost so that our customers may user their Canon products and services with a sense of safety, smartness and satisfaction.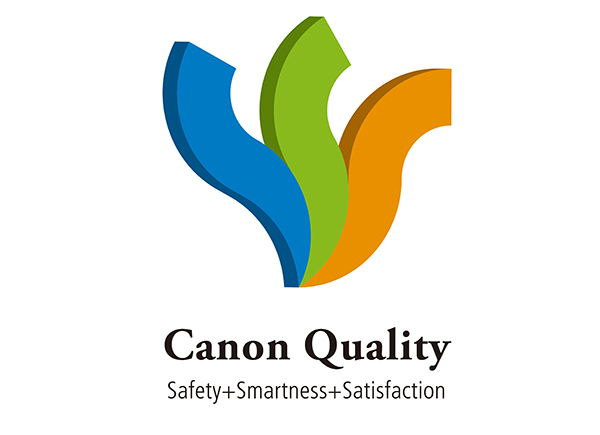 The Canon Quality logo*
*

The three "S"s which stand for Safety, Smartness and Satisfaction fan out from a central overlapping point at which the words "Canon Quality" are positioned. The fan shape's focal point represents a unifying force, while the fanning out of the "S"s represents widespread influence.