Maintaining Trust in the Canon Brand


Vol.5 Ease-of-use: for composition and capture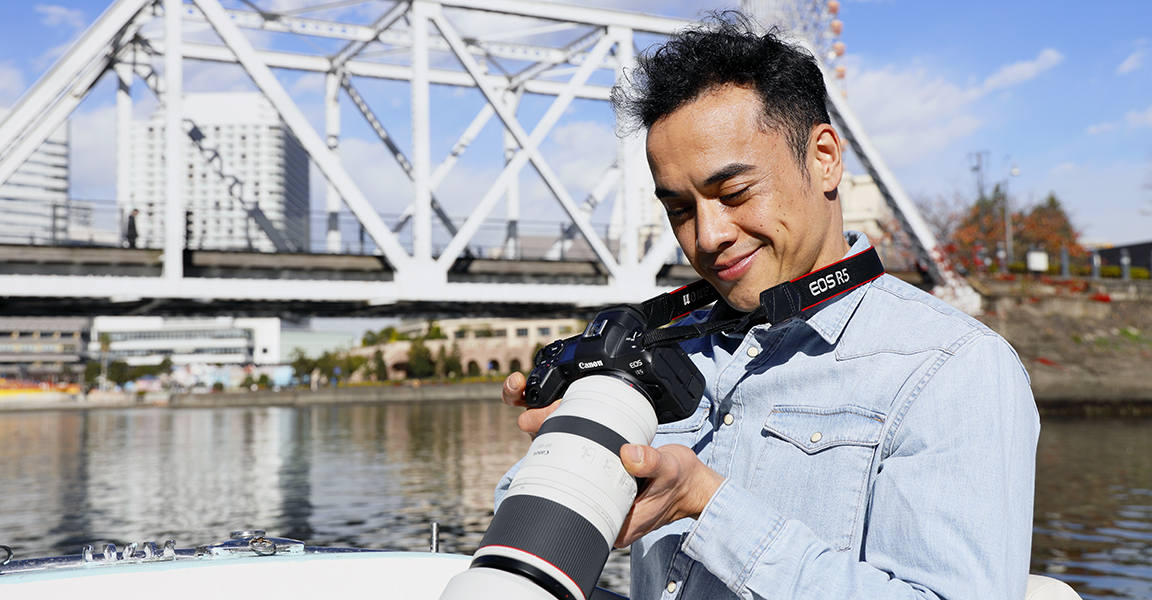 Everyone's experienced the same disappointment at some point or another—you've bought clothing, home electronics or other daily necessities that look and perform great, only for them to wind up collecting dust because they're not comfortable, they're difficult to use, or something just doesn't feel right.
Cameras are one such product that rely heavily on usability.
For professionals who can't afford to miss even a single moment, a camera's form, feel, weight balance and ease-of-use are critical. Beginner photographers also have a simple desire to easily capture pleasant images. Through its more than 80 years of devotion to customer needs for designing cameras, Canon has built up a solid understanding of what makes a camera easy to use—not only ensuring products are safe, but also comfortable, satisfactory and high-quality.
Ease of use does not come from assumptions
The process of capturing an image with a digital camera can be broadly divided into three steps: deciding the composition of the image beforehand, the motions or actions involved in capturing the image, and confirming the captured photo or video. The term "ease-of-use" is deceptively simple, as there are as many definitions of the term as there are people who use it. Canon's understanding of the term begins with the simplest step in image capture—composing the shot and pressing the shutter button. With this in mind, the company has spent years upon years refining such aspects as the ease of pressing the shutter button, turning electronic dials and zooming in or out.

Even the process of improving a single operation is not casually left up to the developers' assumptions of what constitutes "more intuitive use."
Thorough investigations are carried out in the pursuit of greater ease of use by observing how all users, from professional to beginners, hold the camera, use its various features and, of course, capture photos. These investigations are not only performed during the product development cycle, but also continue after its release. Customer interviews are regularly held to collect user feedback that will help improve the usability of future products.
Cameras are held more than they're used
It is absolutely essential that a camera be easy to hold. When you're waiting for just the right moment to shoot, you're often holding your camera at the ready for far longer than the brief moments in which you're pressing the shutter button. Therefore, it's vital that cameras be easily held in position when shooting and carried about when not in use, in order to avoid tiring the user. There are countless ways that a camera might be held—different people, with differently sized hands and fingers, hold their cameras in different ways, and even the camera's center of gravity also varies depending on the interchangeable lens attached to it.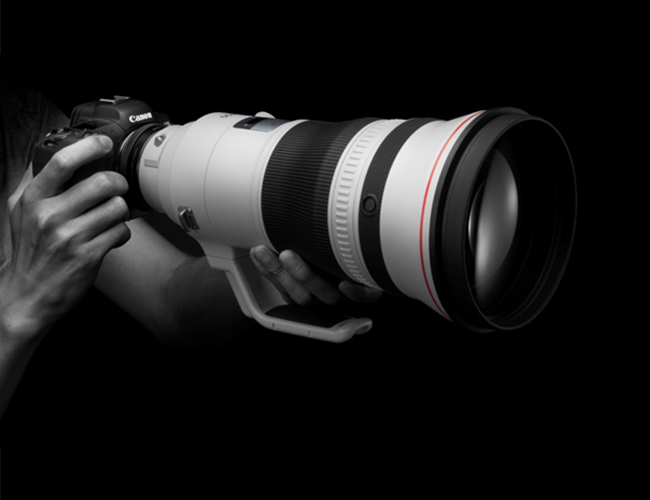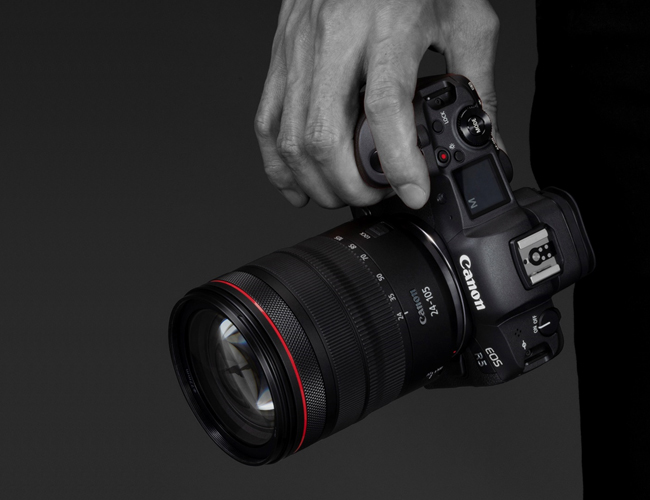 Canon's quality evaluation department constantly studies the myriad ways that people hold and operate their cameras. For each and every product, factors such as slippage, harness and tactile feel are analyzed using tens of different grip samples through repeated trial and error.
Behind such design decisions is Canon's desire as a camera manufacturer that its product does not burden photographers even the slightest bit.
Changeable and unchangeable operations
Canon aims to preserve the finger placement for its cameras for gripping the body, pressing the shutter and other basic operations. Keeping the same feel and ease of use that the company had refined over its long history has contributed a great deal towards the trust invested in Canon's brand image.
One of the most notable aspects of mirrorless cameras is their lightweight, compact bodies. However, if the body is too small, the camera can wind up being more difficult to use.
The highly praised EOS R5 and EOS R6 cameras manage to pack high performance into compact bodies that were redesigned from scratch and went through multiple inspections and redesigns to determine whether certain buttons would be included and how they'd be mapped to different functions. The final iterations of these cameras featured buttons that are used to perform multiple operations as well as a new touch-screen compatible UI.
Meanwhile, the body grip was kept at the same size so that the cameras could be used comfortably by people with different hand sizes. By reducing size without compromising operability, the cameras realize a level of user-friendliness only possible with mirrorless bodies.
Easy use for pros, easy handling for beginners
While the basic operations are more or less the same for all of Canon's cameras, the finer points of design and use differ with each individual model based on the intended user and how they operate and capture photos with the camera. There is a distinct difference in knowledge and skill level between beginner photographers and professionals. Therefore, every model, from entry-level to professional-oriented, feature designs, displays, button or dial placement and other carefully considered details so that they may be easily operated by their users.
For example, entry-level models have default settings and instructions that allow anyone to operate them with ease and avoid feeling intimidated or overwhelmed while enabling users to freely switch to advanced settings as they become more comfortable and gradually become more proficient.
And then, there's the professional and enthusiast-oriented models such as the EOS-1D X Mark III and EOS 5D Mark IV. The former is used extensively in sports journalism, and is therefore designed for use with monopods. Thanks to the stability provided by the monopod, users' thumbs are free to operate the camera, which employs a flat grip and rear-facing dials and controls that are placed for easy access. The EOS 5D Mark IV, on the other hand, is designed for handheld shooting, and therefore has a robust and secure grip.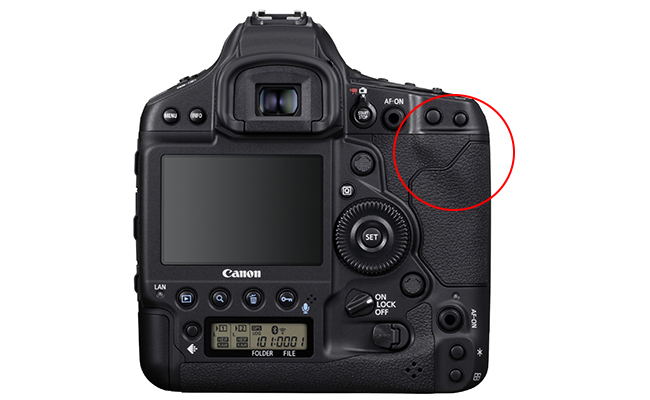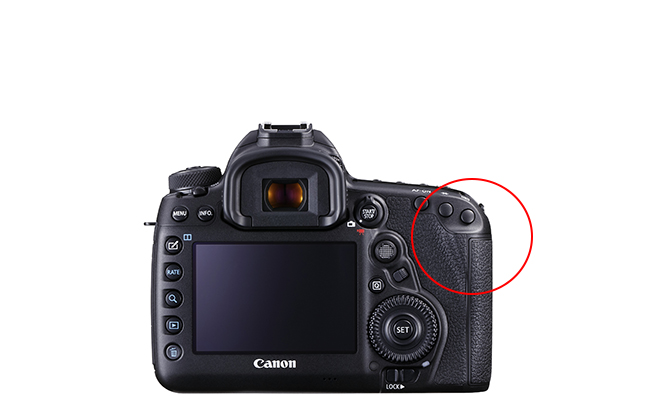 Ease-of-use that evolves with the times
One of the most notable differences between DSLR and mirrorless cameras is the finder to check the shot composition and the letter employs the electronic viewfinder (EVF). Naturally, Canon has gone to great lengths in order to ensure ease-of-use for its EVF menus.
Every aspect, from the font to the more than 1,000 icons of the EVF display, is originally developed by Canon. Even details as minute as colors used or line thickness are determined by repeated testing and surveys so that users have access to menus that are visually pleasant and high-quality without getting in the way when trying to capture a shot.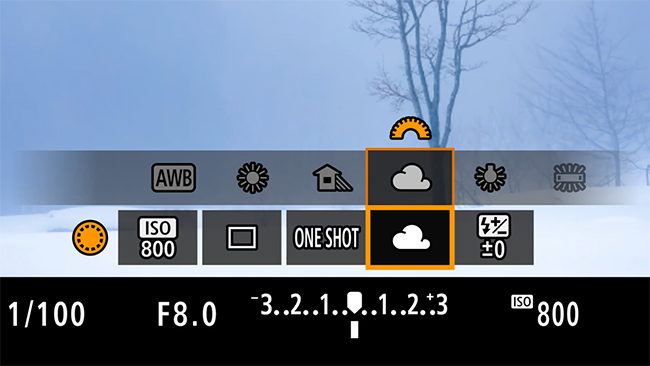 As the times change, so do the way in which we use things. Designers pursuing ease-of-use must pay close attention to societal changes and trends. Canon has long since implemented touch-screen UI in its cameras, but with the widespread adoption of smartphones, conventional touch operation rapidly evolved to encompass such actions as pinching to expand and shrink as well as finger-drag scrolling. It goes without saying that smartphones have continued to evolve and transform society, so Canon must also continue its pursuit of quality that helps customers to use their devices intuitively and in the exact way they imagine.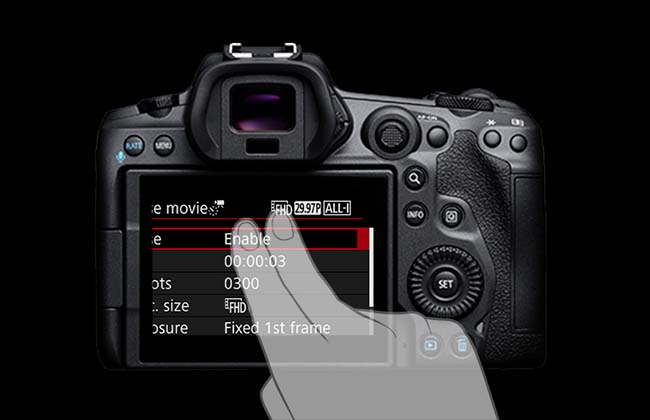 Seeking cameras that don't require manuals
When asking people what they'd like to change about their cameras, Canon receives a flood of feedback. But rarely do we hear the success stories of when cameras have become easier to use or understand. Determining whether cameras have actually become easier to use is akin to endlessly releasing messages in bottles.
Nonetheless, Canon knows just how crucial it is that photographers don't have to hesitate for even an instant to perform a given operation, and how important it is that they're able to do so even a little bit faster.
That's why we continue to exhaustively research how to make our cameras easier to use through in-house testing and interviews with professional photographers. With the goal of creating cameras that allow users to capture exactly what they want, in exactly the way they want to, and feedback from users who tell us they can capture photos without consulting a manual, we remain committed to improving our cameras.