Semiconductor Lithography Equipment

FPA-5520iV

i-line Stepper Enhanced for FOWLP Applications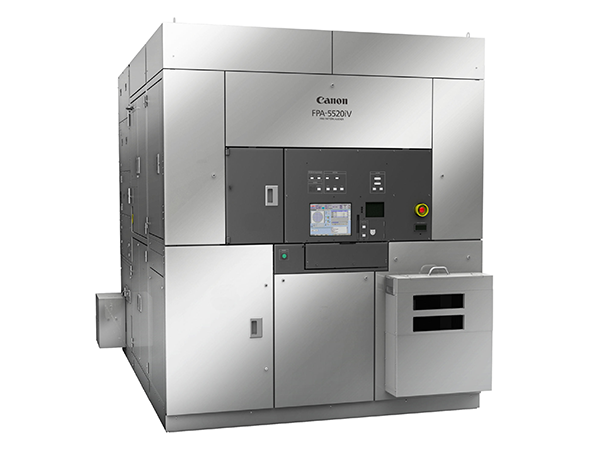 Basic Information
Model Name: FPA-5520iV
Features
FPA-5520iV addresses next-generation packaging production challenges including Fan Out Wafer Level Packaging [FOWLP]
FPA-5520iV steppers have functions designed for processing of reconstituted FOWLP Wafers that consist of individual die that are mounted and encapsulated onto a carrier substrate for further processing. FOWLP wafers can suffer from severe warpage and die shift that must be overcome.
FPA-5520iV steppers employ a wafer handling system with flexible vacuum pads on robot end-effectors and other countermeasures to vacuum chuck warped substrates.
FPA-5520iV stepper wafer stages adopt a new wafer chucking system with increased suction to secure and flatten substrates, allowing high optical performance.
FPA-5520iV steppers utilize a new wide-field alignment scope with a field-of-view that is doubled vs. FPA-5510iV steppers, making automatic wafer alignment possible when wafers contain large amounts of die shift, to improve equipment utilization and productivity.
FPA-5520iV is a high performance i-line stepper
FPA-5520iV steppers achieve the highest levels of productivity among leading edge i-line steppers.*
FPA-5520iV steppers employ newly developed high-intensity illumination optics system that realizes an approximately 30% improvement in illumination intensity vs. FPA-5510iV steppers. FPA-5520iV steppers reduce exposure times for the thick photo-resist processes to boost back-end wafer processing capacity as much as **20%.
*

Among same-class i-line steppers. As of July 4, 2016 (Examination by Canon)

**

Throughput compared with the FPA-5510iV. 300 mm wafers, 60 shots, 10000J/m2 dose
FPA-5520iV inherits the benefits proven by the FPA-5510iV stepper
FPA-5520iV steppers inherit the proven high-resolution projection lens and imaging performance of the FPA-5510iV stepper.
FPA-5520iV steppers provide the same alignment system options as FPA-5510iV steppers to deliver robust and accurate overlay performance.
FPA-5520iV steppers adopt FPA-5510iV stepper console software with common operation procedures and easy recipe conversion.
Specifications
Resolution

≦ 1 µm
Reduction Ratio

1:2
Field Size

52 mm x 34 mm
Exposure Wavelength

i-Line 365nm
Reticle Size

6 inch
Wafer Size

300 mm (12 inch)
Overlay Accuracy

≦ 150 nm
Main Body Dimensions

(W) 2,300 x (D) 3,340 x (H) 2,700 mm
Major Options

Through-Silicon Alignment Scope (TSA-Scope)
Wafer Edge Shielding Unit
Wafer Edge Exposure Unit
Chemical Filter
Resist Outgas Exhaust Unit
PC Remote Console
Online Function
Pellicle Particle Checker
EFEM
Illumination System Purge Unit