The Tsuzuri Project was launched by Canon and the Kyoto Culture Association (NPO) in 2007 to create high-resolution facsimiles of precious Japanese cultural assets rarely shown to the public for wider public viewing using the latest digital technologies in combination with traditional artisanal works. A high- resolution facsimile is created by first photographing the work of art using Canon's latest digital SLR camera. The image data that is captured then undergoes Canon's proprietary color correction, and the processed image is printed in its original size using a Canon imagePROGRAF large-format inkjet printer. Master Kyoto artisans add various finishing touches as necessary, such as applying gold leaf and mounting the work.
Many of Japan's valuable cultural assets are made of such fragile materials as paper, fabric, wood and lacquer. These works of art are fragile and easily damaged. While it is necessary to offer opportunities for the public to view such works of historical and scholarly value, they must also be protected from deterioration. To date, 38 valuable works have been recreated as part of the Tsuzuri Project (as of December 2018), including folding screens and sliding doors, and the facsimiles have been made available for public viewing. These include many national treasures, including "The Wind and Thunder Gods" by Tawaraya Sotatsu and "The Three Portraits of the Jingoji Temple," attributed to Fujiwara no Takanobu.
Joint Research Project with the National Center for the Promotion of Cultural Properties, Part of the National Institutes for Cultural Heritage
In 2018, Canon launched a joint project with the National Center for the Promotion of Cultural Properties, part of the National Institutes for Cultural Heritage. The project involves the creation of high-resolution facsimiles of important Japanese works of art using the technology employed by the Tsuzuri Project, as well as joint research and testing towards developing new applications for the technology. Due to the fragility of many Japanese cultural assets, art galleries and museums must impose strict limitations on displaying them to the public. To that end, the project produces high-resolution facsimiles of these works that are nearly indistinguishable from their originals for viewing and other potential applications. This effort aims to provide the public with more opportunities to view cultural assets and experience them on a more personal level.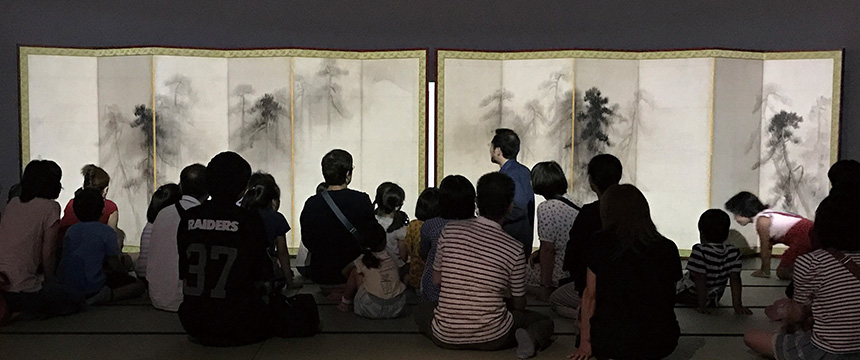 Exhibition of "Pine Trees" by Hasegawa Tohaku (high-resolution facsimile)