Preserving world heritage with the best imaging technologies
2022 marks the 25th anniversary of TBS "The World Heritage" series. Since its premiere, the program has featured precious, shareworthy footage of World Heritage sites to the public. Naohiko Ogawa, the program's producer explains: "World heritage sites are universal human treasures. Since the very beginning, the concept and mission of the 'World Heritage' program has been to record footage of these sites with the most advanced technology available at that time and preserve them for future generations. The truth is that many World Heritage sites have already been lost, and even ones that are carefully preserved will inevitably deteriorate over time. We have to preserve video footage of them, and we believe that it is most important to do so with the best footage currently possible."
Constantly in pursuit of the highest quality footage, "The World Heritage" took on the challenge of filming with an 8K camera, which is said to capture more detail than what the naked eye can perceive. The production team captured footage of Enryaku-ji temple on Kyoto's Mount Hiei and the natural heritage of Hokkaido's Shiretoko peninsula, and inserted the footage as part of their 4K-8K Special series, which aired through terrestrial broadcast in two parts: "Four Seasons of Mount Hiei" (October 2020), and "Four Seasons of Shiretoko" (January 2021).
Production staff refused to compromise on quality, and therefore chose Canon's professional 8K camera, EOS R5 full-frame mirrorless camera, and multiple lenses that expanded their choices of possible shooting angles.
8K shooting with exceptional mobility
"I thought that we would run into many issues shooting 8K, but the cameras were compact and could be rigged onto helicopters and cranes. On top of that, we could execute shots from all our ideal shooting positions with just one camera. It was wonderful to shoot in such a stress-free, uncompromising style," recalled director Hiromi Kusaka. "It was extremely powerful that Mount Hiei looks three-dimensional when we rigged the camera and stabilizer onto a helicopter. With Lake Biwa reaching far into the background, the intricate cityscape of Kyoto in the foreground was presented in realistic detail. That's when I was struck by just how 8K brought about a totally different level of realism. Even the summer clouds that I am so familiar with look extremely lifelike when viewed in 8K."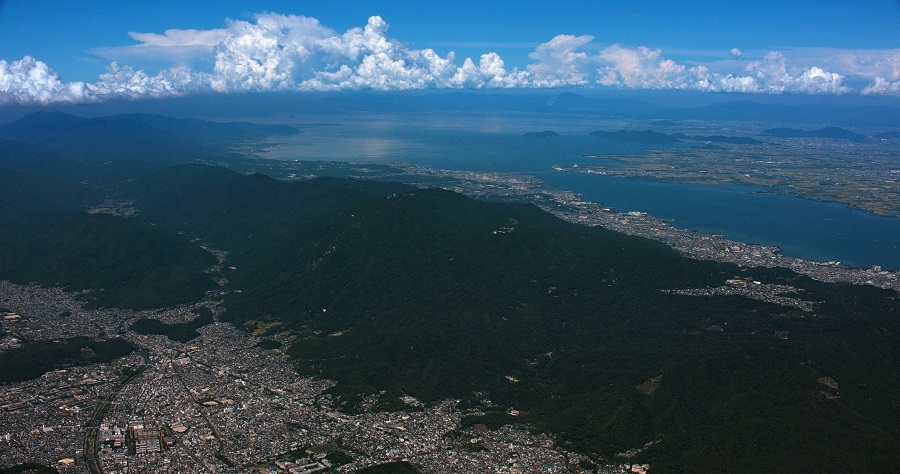 The grandeur of Lake Biwa, captured from the sky above Mount Hiei
Reproducing the light and atmosphere of 500 years ago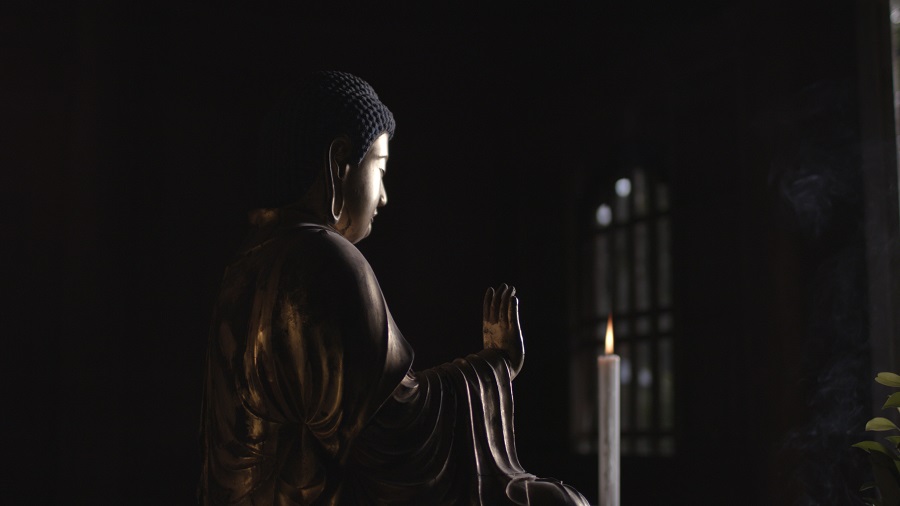 Footage captured in the light of just one candle
Canon's professional 8K camera can shoot 8K in uncompressed (unprocessed) RAW format. The dynamic range of this footage provides ample flexibility for specialists who manipulate the tones and colors when grading the footage in post-production, resulting in a final product that is more faithful to the actual scene. "We felt that night is the most flattering timing for World Heritage buildings. For example, to reproduce the light and sense of atmosphere the way it would have been 500 years ago, we wanted to shoot the Ruridō Hall, which appears to float in the middle of Mount Hiei at night, using the light of just one candle and nothing else. The 8K camera helped us achieve just that. While the bright parts of a scene are important, the image wouldn't look as good or be as convincing if the subtle tonal transitions in the dark areas could not be shown." explains Kusaka.
Footage that closely resembles human vision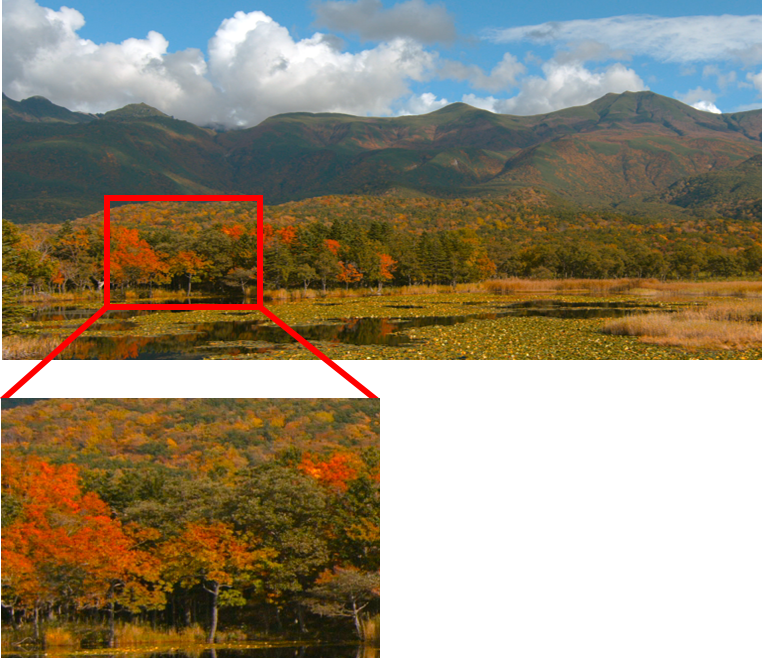 Even the delicate stems and branches of Shiretoko's autumn foliage are captured in lifelike detail.
Nobuo Yaguchi, who filmed the segments at Shiretoko, was also impressed. "I started shooting Hi-Vision (analog HD), and then moved to 4K, and now we have 8K. The way the space visible within each frame was resolved looked completely different. As a cameraman, this is a pleasure to see; it also makes one truly feel just how amazing technological advances are. A wide dynamic range means that you see many more tones and colors. This means that scenes with many tonal transitions, such as autumn leaves or seaside sunrises and sunsets can be reproduced even more beautifully. I was impressed by how 8K rendered tones in such detail, down to the delicate branches and stems of the autumn leaves in Shiretoko. We're always trying to capture footage that presents the actual scene as close to reality as possible, from the atmosphere to the humidity and even the temperature of the place. I felt that with 8K, what we captured was very close to what I saw with my own eyes."
Easy-to-handle operations
Another thing that impressed Yaguchi was how easy the 8K systems were to operate on-site. "When deciding the camera angle, we usually have to try out different shooting spots, and when we do, we have to move the cameras, the lenses, and all our shooting gear too. This was the first time in my entire career as a camera operator where I could shoot raw video just by controlling the camera via one optical cable, and I was simply in awe of what modern technology can do. The EOS C300 Mark II, one of Canon's Cinema EOS System cameras, has excellent operability, and the 8K camera had entirely the same operations and layout, such as the jog dials. Because of that, operating the camera was so intuitive that my hands just knew what to do without having to think. It was that easy."
The 8K Shiretoko shoot was done with just two types of cameras: the Professional 8K camera and the EOS R5 mirrorless camera. The EOS R5 was mounted on a drone to simulate a birds-eye view, and was also placed underwater in simple waterproof housing to film salmon swimming upstream. The camera supports 12-bit RAW recording with Canon Log, which has high color grading endurance. It can also record in HDR, which offers a wider dynamic range and larger color gamut that allows colors and contrasts to be reproduced in a way that is more faithful to what the human eye sees when the footage is output to a HDR display. It complements the 8K professional camera well, with each camera having its own strengths. In fact, Yaguchi found the 8K professional camera and EOS R5 combination "a complete package".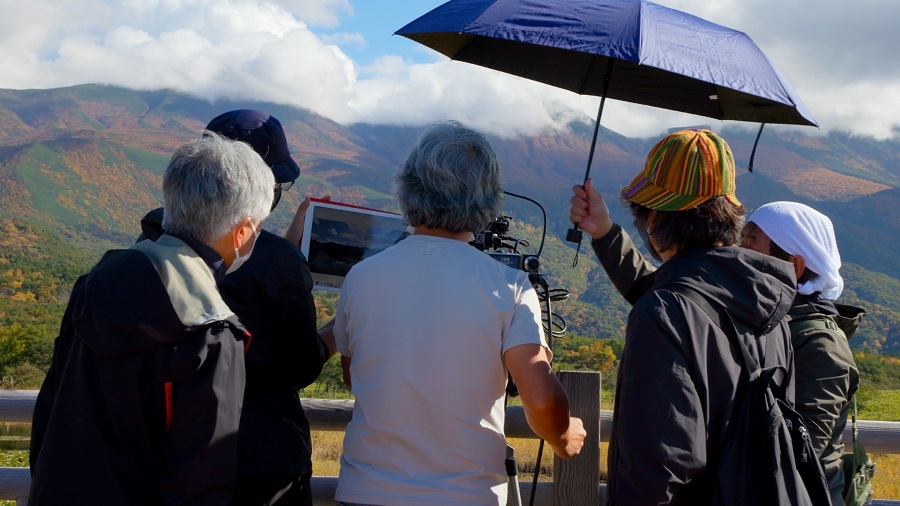 Shooting RAW video with just one optical cable.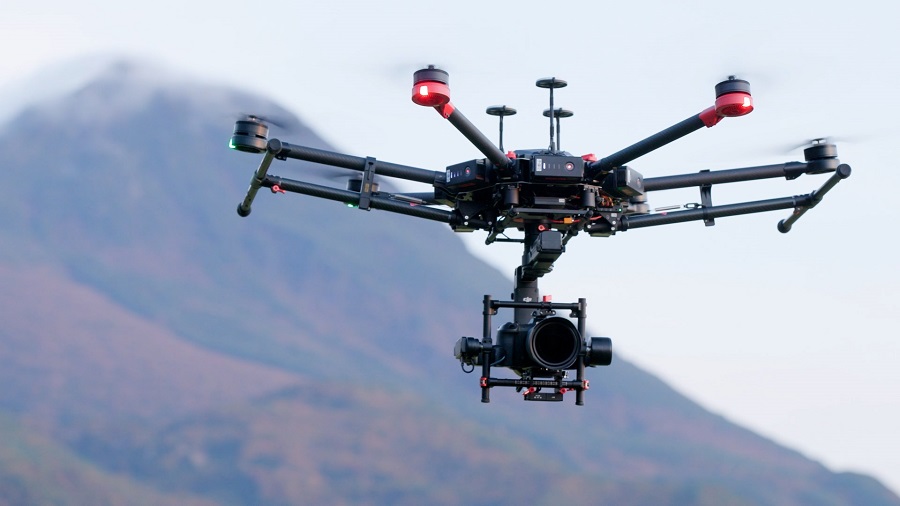 The EOS R5 was mounted on a drone to simulate a birds-eye view.
A practical comprehensive solution
Besides cameras, lens performance also plays a crucial role in creating a comprehensive 8K solution system. Yaguchi explains: "One of the weaknesses of a zoom lens is that you can't guarantee consistent resolution while you're zooming in. Canon's cinema zoom lenses perform well. They take in light over a large area, which results in a clean, beautiful image that doesn't compromise on resolution."
Apart from image quality, a good 8K solution should also streamline the production workflow. Producer Ogawa found Canon's system particularly useful in this regard. "Our schedules are usually tight, and it takes even more time to process the tremendous volume of data produced when shooting in 8K. With Canon's system, we can review the footage through proxy data and grade only the 8K footage that we will be using, which is very efficient."
Poised to become increasingly mainstream, with growing expectations for it to be a format that goes beyond normal human vision, 8K will be the next visual standard to sweep the world. Meanwhile, Canon will continue to innovate its 8K solutions, so that future generations, will also be inspired by footage that is more beautiful and more high-definition than ever before.